Ah The Grammys… Touted as "music's biggest night," the Grammys are music industry's version of the Oscars. While musicians still regard this prize with respect and covetous idolatry, the Grammys have a tendency to year in and year out feature the same acts (at least, as far as what they show on TV), many of whom are veritable dinosaurs in the business.  Nominees for this year's best rock song were members of the Beatles,  Nirvana, Black Sabbath, and the Rolling Stones. These guys came out with the best rock song … for this year? Really?
Still, the show wasn't all bad. There were definitely some high points of the evening and some not so high points. Here's a quick recap in case you missed it…
The Illuminati Award goes to Katy Perry for her live performance of "Dark Horse" where she attempted to twerk in flowing black garments amidst back up dancing centaurs and goblins while digital fire ignited all around her then used a broom for a stripper pole as a huge red LED cross lit up on her chest.  Well, that at least explains it…
The Best Walking Dead Reference award goes to Pharrell Williams. I know his hat's being compared to Smokey Bear and the Arby's sign but I think he's really channeling Rick Grimes' son Carl here.
The Most Blatantly Arrogant Acceptance Speech award goes to Dave Grohl and Paul McCartney as they described their intense passion for songwriting. Dave, apparently, called up Paul one day during a jam session (where he was obviously feeling bereft of material) and suggested they remake something. To which Paul added, snapping his fingers, that they came up with "Cut Me Some Slack" in less than two hours. No offense guys but the XX took 15 minutes to record "Angels" and that song blows yours out of the water. Just saying…
A close runner-up was JayZ who told his daughter Blue Ivy that he had a new sippy cup for her, then hammed it up backstage taking pics while pouring wine into the award and drinking out of it. Maybe next year he can literally take a crap on the award to show how meaningful it is to him.
The Time to Get a New Act award goes to Pink. Don't get me wrong, I was simultaneously awe-struck and impressed the first time I saw her lifted above the crowd in her take off on Cirque du Soleil… But now, many high flying TV performances later, I'm a little apprehensive over what safety precautions she's taking. A Cirque dancer from the Las Vegas Strip died not too long ago when her safety harness failed and she fell 30 feet without a net. Pink's a great singer and she's been pretty consistent with her hits over the years. For me, the whole circus thing is so unnecessary. She's already broken something performing this bit so why not just do what she does best and sing? That's what we love her for, anyway.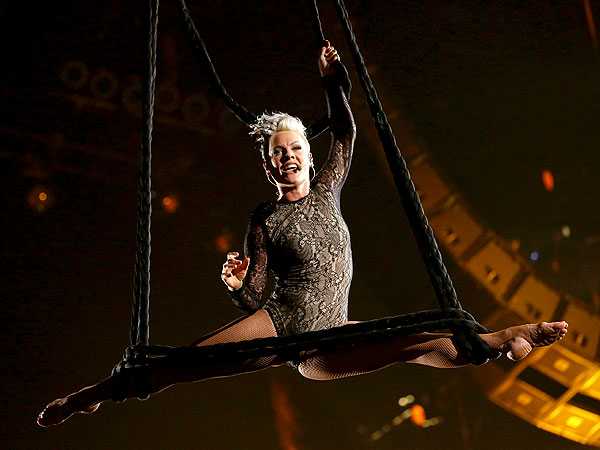 Best Live Performance award goes to Kendrick LaMar and Imagine Dragons. Despite the almost overuse of fog machines, their medley of "m.A.A.d. City" and "Radioactive" was clearly the best performance of the night. And, honestly, it was nice to see Taylor Swift in the audience standing up dancing in the front row from the moment the guys took the stage. Of course, by the end of the performance the entire crowd was on their feet and rightfully so.
Second runner-up goes to Macklemore, Ryan Lewis, Mary Lambert and Madonna's performance of "Same Love" and "Open Your Heart" respectively, not necessarily because of their performance but because of all the couples (along with Ryan Lewis' sister) that got married right there in the audience with Queen Latifah officiating.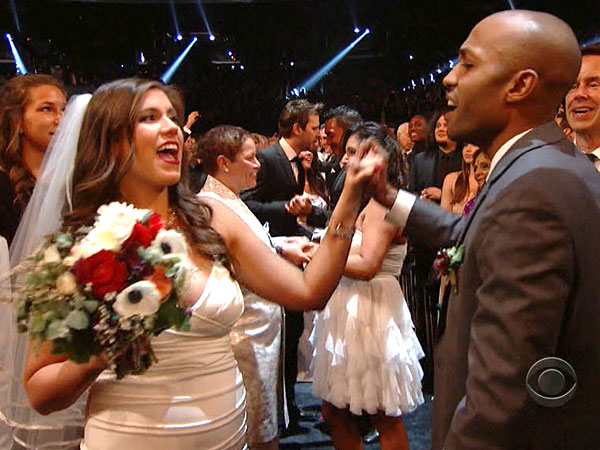 Disclaimer: The only reason why Metallica's tribute to the late Lou Reed with their hit "One" didn't place was because the song  was actually written in 1987. They were still awesome, though.
Most Gratuitous Use of a Pimp Stick award goes to Madonna. At first I thought she was using a cane because that's how old she is but then she started swinging it around so it wasn't that. Then I saw a pic of her up close  and she's got a grill, too? This is like some weird cowgirl 70's pimp glam. I just don't get it at all …
Note to the Grammys: The show has seemed to be out of touch for years when it comes to the nominees in categories like Best Metal Album and Best Alternative Album. It would also be nice to see some variety. The award is so much more diverse than the show is.  The all-star tributes with the 60's and 70's rock guys playing with the new guys is so overdone. Why not feature winners from some of the lesser known categories? Why not expand the categories to cover all of the types of music that America offers? There is a lot of music that comes out of the 50th state of Hawaii. In fact, one of this year's big winners, Bruno Mars, is actually from there.
I think a lot of people would be surprised to see how many Grammys are actually given out every year. It's not just the same people getting nominated year in and year out like it may seem. There are also awards for categories like Best Reggae Album, Best Regional Mexican Music Album, Best Comedy Album…  Kathy Griffin won that one this year, by the way. There's also Best Song Written for Visual Media (in other words, Movie Soundtrack) and Best Dance/Electronica Album among a whole list of others.
One of the Lifetime Achievement Awards this year was given to a band called Kraftwerk. If you've never heard of them, they were one of the first originators of Electronic music having first formed back in 1970. Here's a clip from a documentary about them.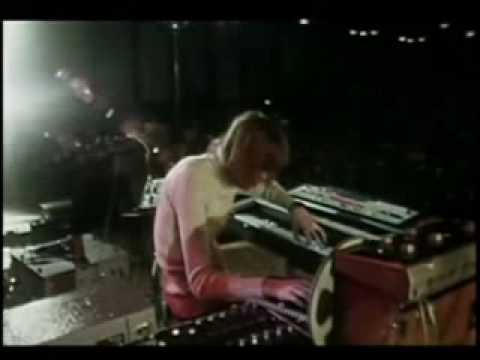 More fun articles: