The main event: Fedor vs. Arlovski
Affliction: Day of Reckoning, was a pretty exciting event. Mongoose and I bought nosebleed seats for $50 a pop.  We arrive at the Honda Center at around 4:00 pm. John Spartan called us and told us that he's also coming down, we told him to buy the $50 ticket and we'd meet up inside.  Going in, I was excited and nervous because I knew  that Andrei Arlovski had a good chance of knocking out Fedor.
First thing I noticed was that there were a lot of Bao Quach fans. Most of his supporters were pumped and wearing his shirts. But, compared to other MMA events, the excitement from the crowd just wasn't there.  We get to our seats, the preliminary matches just started.  We sat near the roof but the view was pretty good.  We noticed that there were plenty of empty seats, but it was only the prelims. Usually, only the hardcore fans show up early for fights.  In this article, I'm going to discuss more of my experience than the fights because you guys already know the results.

Nogueira finished Vladimir with this knee.

After about 30 minutes, John Spartan called us and told us that he was inside the arena, so I get him.  He sat next to us since there were a lot of empty seats.  During the Nogueira/Matyushenko fight, the boo birds came out in full force.  It wasn't a boring fight, but the crowd wanted more punches thrown. However, the crowd was happy at the end of the fight as Nogueira finished off Matyushenko

Replay on the jumbo screen
After the fight, we decided to walk around while Affliction was preparing for the PPV.  Afterwards, we decided to sit where Spartan was assigned, so all of us could sit together.  It was a little bit further from our original seats but it was better because there were less people.  Then the lights went dark and the fighters were introduced. We couldn't see the fighters because there was a big screen blocking our view.
The first PPV fight started with Green/Lauzon, that was the longest 1st round I've ever seen.  I guess 3 groin shots can do that to a round.  Green looked pretty impressive and I liked his care-free style.  The crowd went nuts when Lauzon got the choke though.  At this time, the crowd got bigger but there were still plenty of empty seats.

Empty seats galore
About 30 minutes later, we noticed a commotion behind us.  One of the ushers were checking tickets and it looked like people were getting kicked out.  I was concerned because we weren't suppose to sit in that area, only Spartan had the ticket for it.  The usher asked for our tickets and we gave it to her.  She took our tickets and gave us 3 tickets for section 223!  So off we went to our new seats.  We were about four rows up from the ring.  Sitting around us was Kit Cope and the Nogueira twins.  We also saw Bruce Buffer (UFC announcer) and Tom Atencio (VP of Affliction) pass by.  Talked to Atencio and he was pretty cool, very classy.

Affliction VP, Tom Atencio

At this time, the Belfort/Lindland was about to start.  That lasted for about 30 seconds. More people were coming into our row so I totally missed the devastating knockout by Belfort.  Actually, everybody in our section didn't really see what happened.  People were asking each other what happened.

Belfort and Tito
People were booing Oscar De La Hoya whenever they showed him on screen.  Tito was also boo'd every time he went up for the interviews.
Barnett/Yvel was next and the energy was still high from the Belfort knockout.  Now, this was the energy I was looking for.  Barnett had a lot of fans but by the end of the fight, Yvel definitely got respect from the crowd.  Some guys behind us were calling Yvel a pussy for tapping to a strike – must've listened to BJ Penn's latest comments.  Yvel showed a lot of heart getting full mounted for a couple of rounds and still try to fight back.  He could've easily given up in the second round but he kept on going.

Barnett and Yvel
Next up was the main event!  I was already zoning out at this moment.  I also noticed that there were a lot of Arlovski fans.  Fedor had a little bit more but it was close.  The bell rang and Fedor looked confused.  He didn't look as confident as his previous fights, he had a hard time attacking Arlovski.  I was worried at this point but when they clinched Fedor got the better shots.  Then Big John McCarthy (I'm glad he's back) separated them and Fedor got cornered after a front kick by Arlovski.  All of a sudden, Arlovski disappeared and I just saw Fedor walking away.  The knockout was that quick.  I thought Arlovski got injured.  Then I saw Arlovski laying lifeless on the floor.  The crowd went nuts.  Looking at the replay, that had to be one of most brutal knockouts I've seen in MMA.  Yeah, go Fedor!

Arlovski getting wild.  Fedor is calm as usual

Exchanging blows

Arlovski out cold.  My favorite picture of the event. 
There was one more fight left so we decided to stay.  The promoters were throwing away shirts and one landed in our area.  Mongoose grabbed it, then another one came flying in our area and I thought Spartan was going to get it for sure.  Then a body just flew out of nowhere and intercepted Spartan's shirt.  The guy landed head first on the backside of the chair.  He didn't move for a couple of seconds, he was hurt.  He slowly got up as people were asking him if he was okay. I noticed blood coming down from his left eye.  He got up and asked me if I wanted to take a picture of him.  Of course I did!  I wish you the best T-Shirt Guy! By the way, the shirts weren't that great.

Chair: 1, T-Shirt Guy: 0
The last fight ended with a great KO and we go outside.  I saw Pat Militech.  That dude was a pimp, he was getting hounded by girls.  We took a picture with him and off we go to the hotel to meet the fighters.

Pat Miletich
First fighter that showed up was Chris Hordecki.  Very humble guy, and still doesn't look like a fighter.  As Bas said, "he looks like he's 12 years old."  Hordecki took his time talking to the fans.  Afterwards, I go inside the hotel lobby and see Matt Lindland.  I have him sign the picture I took with him from the last event.  He still remembered me (That guy has a good memory).  He was talking to Buentello and he said he already went to the hospital and was cleared.  We told Matt that we still support him, and Mongoose shows him his Clinch Gear T-shirt.  Lindland was happy that we support his camp.

Chris Hordecki
Next up were the Nogueira twins, they welcomed their fans but I couldn't tell them apart.  I took some pictures with them.  They just stayed in the lobby the whole time and interacted with all their fans.  They looked really tired though.  One girl was hitting on Big Nog and wanted to buy him a drink.  She had 2 other female friends with her.  Big Nog politely declined the offer. Ah, the perks of being an Ultimate Fighter.

The Nogueira twins
As we were heading back out, we saw Yvel come in.  Nobody knew who he was.  We took a picture with him and told him he showed a lot of heart, he was very upbeat and carefree.

Gilbert Yvel
Back outside, we saw Ray Sefo with Jay Hieron. I ask Sefo for an autograph. He was very upbeat and happy, his team had 2 KOs that night.  Once again, no one recognized him.  He was very approachable, and took his time signing.  He said he'll be fighting in MMA soon.
I go back inside and see Jake Shields.  He said he wanted to fight in the UFC but the contract is still being worked out.  He wants to fight soon.
We see Kiril walking around and took a picture with him.  He was a nice guy, humble, but looked a little depressed.  All of us felt bad for him.  We told him he put on a good show and that he'll make a comeback. I don't think he understood what we said, but nodded.

Kiril
Then we saw Gegard Mousasi.  Mousasi told us that he is fighting in the 3rd Affliction event, but he'll fight in Japan first.  Mousasi reminds me of Fedor, very calm and confident.

Mousasi
I see Fedor walking in, it didn't seem like he was signing autographs.  I try to get his autograph by the elevator and he gives me a shrug and goes in the elevator.  His manager said he'll be back in fifteen minutes.  First time I've seen Fedor in a rush and not stopping for the fans.
I go back outside  and talk to some hardcore MMA fans.  Big shout out to the 2 guys from Vegas (where did you guys go? You disappeared all of a sudden), the 2 girls with the cameras and Marlon.  You guys know your MMA and it was great talking to each and everyone of you.
We see Arlovski go in.  One guy asks for an autograph and he says "No."  Another guy wanted to shake his hand and told him "sorry for the loss."  Andrei just looked at him, shook his head and kept on walking.  It's true that he's not friendly to his fans.  How hard is it to shake a person's hand?
Fedor walks out and I try to get his autograph for the second time.  He was still in a hurry.  Fedor kept on walking but every couple of feet, he'd stopped because the fans would mob him.  He signed for everybody and I got my picture signed.  That's why Fedor is my favorite fighter, he dominates in the ring but at the same time he's really humble and acknowledges the fans.  Spartan was the last one to take a picture with him.

Fan on the left, fighter on the right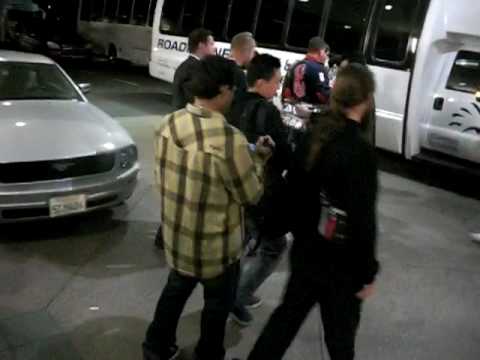 Video of me getting Fedor's autograph
As I walked back to the lobby, I see Arlovski walk past by me. He walks directly straight to the shuttle without acknowledging anybody.  Big contrast from Fedor.

Forget Machida, The elusive Andrei
Inside the lobby I saw Ernesto Hoost and we took a picture with him.  He said he's still retired and won't be fighting soon.  That dude has some some big knuckles.  Next to him was Sokoudjou.  I told him that he was winning the first round and too bad he got caught with the choke.  He told me "next time" with a smile.  After that, we call it a night.

Sokoudjou
Affliction: Day of Reckoning is an event I'll never forget. We got floor seats for $50, met the fighters afterwards, and best of all, we saw Arlovski got KTFO by Fedor!
Tickets – $53
Parking – $5
Seeing Andrei kiss the mat – Priceless!
More pictures of the event is in our gallery, make sure to check it out.


Thanks Affliction!
More fun articles: