Last time, I talked about that dark side and graduation; this time, I want to focus on the music—after all, they do sing and dance.
UZA:
In the middle is Minami Takahashi, my AKB48 Oshimen or Number 1 favorite. She is the lord of the yakUZA and looks like she is going to fuck someone's shit up—holding her Kiseru (pipe), she stares down at the rival families and wears a beautiful Kimono.
On the left and right are her thugs.
On the left is Tomomi Itano who Graduated in 2013. One of the original members from the cover of the first album shown in part one, Tomo is now hugely successful on her own. She is a model and a singer and has a few solo albums out.  She did a with-in AKB solo called Dear J which has been performed by others. Tomomi had a Yaeba back in her AKB48 days—a Yaeba is a protruding tooth that appears to look like a fang—it is either an implant usually put on top of the existing tooth or just ingrown–it was on the left side and made her look very cute—apparently she no longer has it, when she smiles, the tooth is pushed back, as in the excess was removed. I guess that was her choice, she didn't want it anymore?  Removed or "fixed?"
Tomomi is very athletic and when she performs her hits for Minami, she gets the job done; she is one member of the yakUZA who no one wants to mess with; this five foot tall dodge ball cannon with minimal taste buds will knock your block off!
On the right is Yuki Kashiwagi, she was one of the original members of Team B and became the Captain in 2009 after whacking CinDy (that is a joke by the way). She is still with AKB48, however she is not the captain of Team B and she doubles her duty with NMB48 in Namba—I'm guessing that because she is experienced that she was made to join the newer group to teach them. Yuki is also part of a side group called French Kiss with members Asuka and Aki, and on top of all that, she is semi-solo; ready to leave the nest anytime.  She is a great singer and her concerts are so live that there is a live band and she actually sings, probably why she doesn't move around too much, awesome talent!
Yuki has a very dark heart and will whack anyone her Lord Minami wishes with her unbelievable good looks; but physically, her wimpy spaghetti arms won't do her much good.
Yuki is special to me, I have an attraction to her I can't talk about; it's my own private secret.
So………now that the lame joke is over, here are the facts.
UZA means, HOW ANNOYING…so the Yakuza angle is out the window; but you have to admit that at first look, it's a possibility; the photos are from 2 different songs, so they went together for my lame joke.  I have all the girls UZA photos, meaning the black suit and some of, "The Lonely Starry Sky" which is made up of just Team A–the kimonos.
Below, from the AKB48 official YouTube channel is the full video of UZA—free advertising and hits! Watch it, listen to it and enjoy it, it's my favorite song.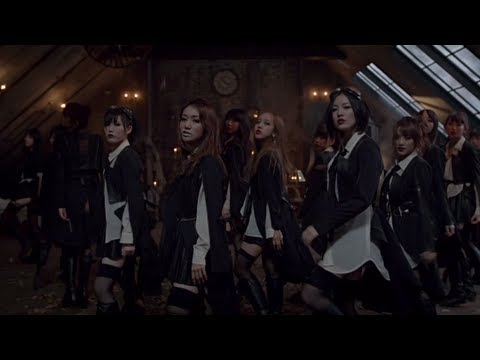 Here are the lyrics in English; it's the best translation I found on the internet.
(How annoying…How annoying…)
You should love him your own way
without thinking about the other person
You should love as your heart tells you
If you're lucky then they may just love you back…
Even if you're hurt or you hurt people
the more serious you are the more you won't notice it
No way
Kiss first, do it before reasons stop you
Release your emotions Do it!
Kiss first, cling onto their neck
That's right, as a way of greeting…
Do you know what the meaning of love is?
If you're ever only gentle, you won't attract them
Do you know about the power of love?
Love is something that steals all once eyes meet
It has nothing to do with his girlfriend
You'll black out every time morals go through your head
Black out
Dream in the end, before thinking of strategies
Throw all your pride away! Do it!
Be the last to dream, no matter what kind of love confession
Yes, you need no answer
How annoying…How annoying…How annoying… As you please
How annoying…How annoying…How annoying… Freely
How annoying…How annoying…How annoying… Offensive monologue
How annoying…How annoying…How annoying… Suddenly
How annoying…How annoying…How annoying… Exciting
How annoying…How annoying…How annoying… The prologue just for yourself
(How annoying…How annoying…How annoying…)
You're annoying!
You should love him your own way
(How annoying…How annoying…How annoying…closer,
How annoying…How annoying…How annoying…deeper)
without thinking about the other person
(How annoying…How annoying…How annoying…offensive monologue)
You should love as your heart tells you
(How annoying…How annoying…How annoying…closer,
How annoying…How annoying…How annoying…wilder)
If you're lucky they may just love you back…
(How annoying…How annoying…How annoying…my only prologue)
(How annoying…How annoying…)
How annoying
In the Center are Jurina Matsui and Yuko Oshima (silver lipstick)—both mentioned in earlier posts. If you watched closely, you would have seen Yuki in the back actually smiling at some points—she loves being an idol (her own words). The song is really cool and the video is even cooler. A lot of creativity went into it. You don't know if they are the puppets of the Yakuza, Goth-ing out or what…? "Use your imagination" is in English at the beginning of the song, so I guess it's up to the viewer what UZA is all about—but obviously, from the lyrics, its an anti-love song.  The actual music video has them as old, dusty toys in an attic, so that is the concept pretty much.  …I think a few of them missed their lip sync…yeah, sad, I know…
Disks A, K, and B—the Theater version was shown in part one. Each has an R-2 DVD and a CD with different pieces on them; the covers of course; and who performs. The DVD's have some different videos and all include the title track.
So, did YOU like the song?
Next are a pair of some of the coolest and funniest videos I've ever seen. The girls are Yankis' (gangs,delinquent students) at a run-down school; the lunatics have taken over the asylum!!! Just watch them, listen to the music and make a decision on what YOU liked and didn't.  Both videos are from the drama "Majisuka Gakuen" which I saw in an English Subtitle.
I just want to mention to look out for a gruff-looking girl—long hair, long dress, looks like a delinquent. That is Nachu, she was part of SDN48 (talked about in part 2). Nachu is a pure entertainer; she is a comic and pretty much a character actress. She is very funny and a skilled MC. Seeing her play the role of a delinquent student–even a weak one–is kind of different than her usual—which is a wild, over the top…well, see below.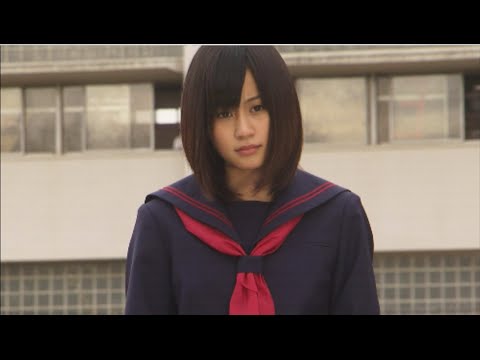 Video one…watch them in order.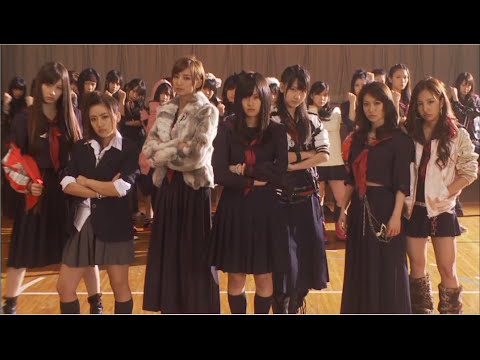 Part two…yeah, its long like a mini drama with credits and an outtakes window; a very creative pair of videos that takes from the drama–Minami is dead by the way.
This is the usual view of Nachu, she is 29 as of this article; 30 in December—VERY over the top!
Next time; the Oshimen—Number 1 Favorite. I will introduce my top three favorites; there will be a lot of photos, all part of my collection, so enjoy it.
CLICK ANY PHOTO TO ENLARGE FOR DETAIL!
More fun articles: