The Amazing! Las Vegas Comic Con will be held at the South Point Hotel & Casino for three days over the weekend of June 20 through the 22nd. Special guests this year include George Perez (Teen Titans, Nightwing and Deathstroke), Rob Liefeld (Deadpool, Cable, X-Force), actor Michael Cudlitz who plays Abraham on The Walking Dead, Winter Soldier creator Steve Epting,  Joe Rubinstein, who inked Frank Miller's original Wolverine series, and many others. Click here for a full list of the special guests.
This limited edition Superman: Doomed #1 is a convention exclusive and can be reserved by going here. (Must be picked up at the convention).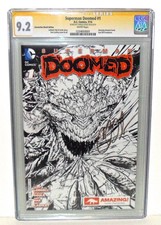 Convention Location: 
South Point Hotel & Casino
9777 S Las Vegas Blvd, Las Vegas, NV 89183
Dates and times:
FRI 6/20: 3pm-8pm
SAT 6/21: 10am-7pm
SUN 6/22: 10am-6pm
For more program information as well as cosplay rules, you can go to their website at www.amazinglasvegascomiccon.com.
More fun articles: