Maybe the costume is like a bad omen.  Things are just not looking good for guys trying to emulate the Batman.  Just in the past couple weeks, a sweaty armpitted crusader named Mark Wayne Williams (well he got the Wayne right!), was arrested in Michigan while dangling off the side of a building at night carrying in his possession (among other concealed weapons) a baton, chemical spray and lead-lined gloves.  The 31-year-old was charged with several counts of carrying a concealed weapon, one count of carrying a gas-ejecting weapon and another count of creating a disturbance.   (Did he forget about the part in the film where Batman was trained by ninjas?)  No motive was given by Williams for the charade.  A few years ago, he was seen in public dressed like the Crow.
Of course, that probably isn't the worst story.  Around the same time, on the same day as Paquiao vs. Moseley ironically, one of those guys who dress up like Batman and pose for pictures with tourists (is there a name for that yet?) on the Las Vegas Strip was caught on video getting his ass beat by a drunk guy.  The tourist even tries to shoot Batman with some invisible web at one point. What I found interesting was that with all the guys standing around watching, it took a woman to break up the savage beating.  Warning:  the film you are about to watch is disturbing due to the extensive amount of idiocy depicted…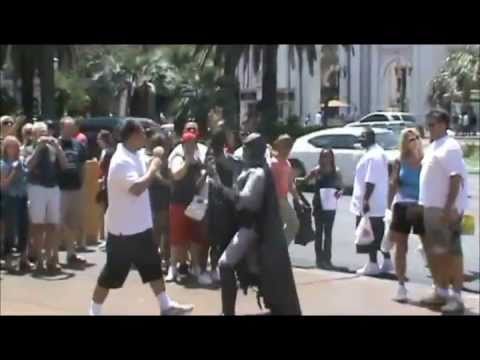 On a lighter note, three new actors have been added to the Dark Knight Rises cast:  Matthew Modine as someone named Nixon, John Conti and 11-year-old Joey King (Ramona and Beezus).
They will be joined by the others already announced (besides Christian Bale, Michael Caine & Gary Oldman, of course): Anne Hathaway as Catwoman, Marion Cotillard as Miranda Tate who works for Wayne Ent., Tom Hardy as Bane, and Joseph Gordon-Levitt as a Gotham beat cop named John Blake.
More fun articles: