With all the Tebow hype that's been going around, it was only a matter of time before Disney – I mean, ESPN, er Marvel – decided to come out with a Tebow comic book.  The studio(s) had this to say: "Like the Marvel heroes who pull off last-minute victories, Tim Tebow has fans around the world on the edge of their seats and believing that in our own lives when time is running out and all looks lost, we can dig deep inside and use our various strengths to triumph over insurmountable odds." Not that I don't get it.  Tebow-mania has not only gripped the country but the entire world, apparently.  And this guy is not without his fair share of haters, or, maybe not so fair.  There are a lot of people out there who not only love Tebow, but love to hate Tebow, too.  His very public devotion to God and Christianity has also made him a crusader of sorts. He's even started a craze called Tebowing, for heaven's sake.  Plus his ability to pull 11th hour wins out of his ass have made him about as real as a superhero to many as anyone can be. There's been plenty of sports comics to come out in the past going all the way back to 1949 and surrounding guys like Willie Mays and Babe Ruth.  Sports fans have a built-in fanbase of collectors.  The Tim Tebow comic book will be like any other sports memorabilia, I'm sure.  And with it supposedly being a limited edition, it might become a huge collectors' item. Of course the big question will be, not whether Tebow has the star-power to pull off his own comic book, but whether Marvel (with Disney at the helm) can put together something comic and sports fans alike will want to own.  Given, die-hard Tebow fans will probably want to buy anything with his name and likeness on it, but if it's a crappy comic book, it's hard to say what effect that will have on its value.  Here are some sketches that have been released already by Marvel artists Todd Nauk, Bong Dazo and Scott Koblish.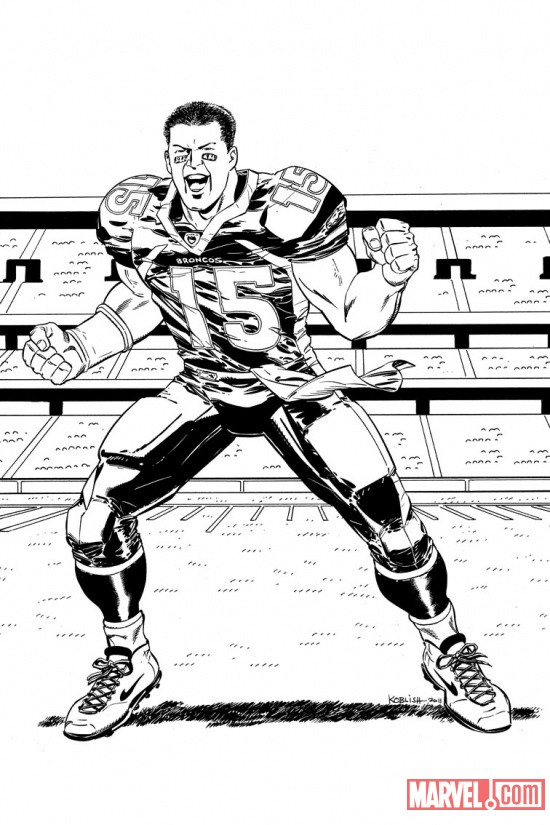 I'd say they have the football side of the Tebow comic character covered.  I'm curious as to what the story will be about.  If it's his bio or something only football-related, then the comics will only appeal to football fans, I gather.  And will Disney stay true to form and try to aim for the younger demographic?  Then it might be a story about bullies in the locker room or something.  The promo video on Sportscenter described him as "Super Tim, a humble superhero, with his team in trouble, don't worry he'll show up, however late in the game it may be."  Yikes.  We'll just have to wait and see.
Here's a video of Hitler showing some Tim Tebow rage.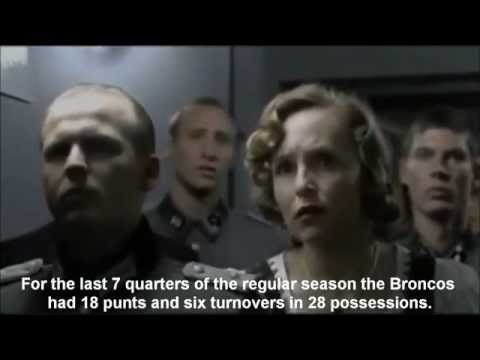 [Sources:  Marvel, Comic Book]
More fun articles: