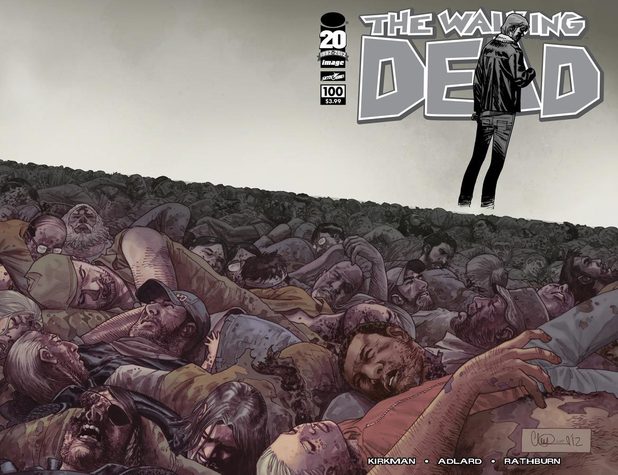 This #100 anniversary issue is being touted as the biggest comic event to happen in years. In celebration of the century milestone, Image will be putting out 9 different covers in July drawn by some celebrity A list comic artists.  Here is the list of covers to watch out for:
Cover A – Charlie Adlard
Cover B – Marc Silvestri
Cover C – Frank Quitely
Cover D – Todd McFarlane
Cover E – Sean Phillips
Cover F – Bryan Hitch
Cover G – Ryan Ottley
Cover H – Charlie Adlard Wrap-Around
There will also be a "Chromium" cover and reportedly 1 out of every 200 books the dealers are getting will be a variant. The going rate for those are being estimated at $400. a pop already.
Here's what writer/creator Robert Kirkman told CBR about this anniversary issue:" I can say that everybody knows that there's this group out there called the Saviors that are kind of intimidating everyone on the Hilltop. They've kind of gotten on Rick's radar, we [saw] their first interaction in #97. We've basically got another very violent, dangerous group out there that Rick is going to be clashing with head-on and I can say that issue #100 is going to easily be the most gruesome, most violent, disturbing issue of "The Walking Dead" yet. So, be on the lookout. Yet, when I say that, I do remember all of the gruesome, disturbing and violent things that have happened in "The Walking Dead" thus far, so I promise I mean it."
Comic book stores are taking preorders now. It might be a good idea since the series is so popular, the books won't stay on the shelves for long.
Also in celebration of the event, Kirkman and Skybound will be treating fans to an interactive Walking Dead theme park at this years Comic-Con in San Diego. It will be called "The Walking Dead: Escape San Diego" and fans will be able to experience the beginning days of the zombie apocalypse first-hand. They're calling it an obstacle course and the objective?  Simply, to survive. Participants will not be timed so it's not like a race; they will be expected to run, jump, crawl, and slide to get away from the zombie hordes. The event will be held at Petco Park.
Here are images of some of the covers:
Cover A – Charlie Adlard
Cover B – Marc Silvestri
Cover G (Preview) – Ryan Ottley
Cover H – Charlie Adlard
[Source: Daily Dead]
More fun articles: