Justin Harder likes to create artwork based on comics, video games and Bill Murray!
I saw Justin's work at WonderCon over the weekend and I was floored.
What stood out were the somewhat abstract characters and color palette.  The characters were mostly lanky but he used colors to make each one's personality stand out.
I wanted to know more about Justin's artwork so I got an interview with him after the con.
NERDSociety (NS): Can you give our readers a little info about your art background?

Justin Harder (JS): I've been drawing since I was 3, I think. I was very fortunate to have parents that supported my doodling and I drew all throughout grade school and into high school. I then went to Ringling College of Art & Design in Sarasota, Florida, where I majored in Illustration. After graduating, though, I struggled to find my niche in the industry. I wanted to do it all. Luckily, my interest in graphic design and typography help me a full-time illustration/design job at a commercial and entertainment studio in Texas, where I'm from. Working at the studio introduced me to tight deadlines, ridiculous work loads, and forced me to change styles like a chameleon at the drop of a dime. In 2011, I struck out on my own, formed CLAUS (my middle name), and I've been doing motion graphics, illustration and concept art steadily ever since.
NS: How was your experience at WonderCon, it was your first time right?

JS: This year's Wondercon was the first time I've printed out my work and put it on display for the masses, yes. It was amazing, I couldn't have had a better time. So much talent around, so many new projects to check out. Sitting at my booth, drawing, and chatting with folks who came up was incredible fun. It felt like I was part of a community. And yes, I was excited about the positive response to my work and it inspired me to push my work further.
NS:  How did you come up with the superhero designs?

JS:  I grew up on Image Comics and I used to copy every single detail in a Spawn panel. Line by line. Lee, McFarlane, Liefeld, Silvestri, Larson. Early on, I knocked 'em all off! Every comic was a lesson. As I found my own path in the art world, however, I lost interest in drawing like that. I found graphic design, fine art, and those influences led me to expressing myself differently than I once had. A couple of years ago I started drawing my favorite classic superheroes again, purely for fun. I found I don't have the patience I once had (does anyone?), so I drew the characters fast and loose. I am challenged by capturing the feeling, form, silhouette, design. The essence. My current superhero drawings reflect that love of graphic design as well as my interest in keeping things complexly simple. Less is more!
NS:  What's your process?

JS: Grip it and rip it. I think of a character I wanna draw and I Google a pic of them, which I then open in Photoshop to use for costume reference. I don't have a pose in mind when I start. I've taken quite a few figure drawing classes in my day, so my knowledge of human anatomy comes into play quite a bit. I use the standard round brush in Photoshop, make sure that the stroke has 'sensitivty' clicked on, and I begin making large, black strokes, hoping that the character will start to reveal itself. If not, I turn off that layer and I start again on a new one. I still use a Wacom pad, haven't jumped over to Cintiq yet. Each drawing is usually only a few layers. The linework is on top, color is underneath, and the shadows and texture layers are in between. I use no filters, no tricks. Photoshop allows me to fly through brush sizes quickly, which always causes some 'happy accidents.' I love 'happy accidents' and find my drawings are fresher because of them.
NS:  You told me at Wondercon that you want to finish your superhero drawings as fast as possible, why is that?

JS:  Well, the longer I work on a superhero drawing, the more likely it is that I'm overthinking it and overworking it. This is not always the case with my other art.  Nothing is sacred when it comes to these drawings, they're great practice. Just finish it, post it to my site/blog, and move on. My drawings becomes stale when I worry about the end result too much. 'Good' is relative.
NS:  Tell us about your Little Italy project.

JS: Lil' Italy is a concept I came up with in 2007 and decided to make a cartoon out of it. I thought the idea of three little boy brothers that live with their grandparents and are raised Mafia was pretty unique. I have two brothers myself, so I could draw from that, and I've always looked up to my grandparents, so that felt comfortable, too. I designed the characters, wrote the story, voiced 'em all, edited the final, got help with the animation, and submitted it to festivals that year. It took 4 months from conception to completion. Luckily, it got into about 10 fests! I loved watching it with an audience because every crowd reacted so differently to different parts. After the festival circuit, I talked with a few places about turning it into a series for HBO, Comedy Central, or Cartoon Network. Alas, nothing ever happened. Yet. I've still got high hopes for the lil' guys.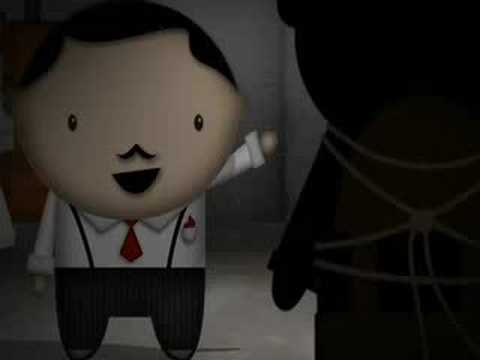 NS:  How do you keep motivated and keep on going, especially when you get stuck with a design.

JS: It depends on what I'm doing the design for. If it's a drawing of a superhero and I get stuck, I'll just scrap 'em and start over. Guess that depends on how far along I am, though! If the design in question is for clients, I usually go get a coffee, punch myself in the face 3 to 8 times, yell at the cat, and then see if I can't bulldoze my way through it. I keep motivated for all of it because I know that this is all I've got. And I do love it.
NS:  Do you play video games, and if so, what's your favorite console and games?

JS: My brothers and I play Left 4 Dead 2 every week online for a few hours. I turn off the lights, put the headset on, and we kill some zombies. We all play on our desktops. I also own a PS3 and love the Uncharted series. I played WiiU at Wondercon! That might be next on the list. The racing game was ridiculous. But the classics are still the most fun. Up, up, down, down, left, right, left, right.
NS: Anything you want to say to your fans and the art community?

JS: How about some self-promo and then a heartfelt message?
Self-promo first: I'll be bringing all-new drawings and prints to Comikaze and to DesignerCon!
Both of those are in November, so they're a ways off, but stop by and say hey!
Now, the heartfelt message: if you're an artist and people tell you that you can't make a living at it, don't listen. Stick to your dream. That's all. Time to go kill some zombies. Thanks for listening!
-End of interview
I want to thank Justin for interview and his insightful answers.
You can checkout more of his work and follow him on his site, FB, Twitter and Youtube!
Are you an artist and want to be profiled on our site?  Drop us a line at info@nerdsociety.com
More fun articles: