Click on pic for high-res version


Click on pic for hi-res
On Saturday, I checked out Long Beach Comic Con to mingle with the artists, check out the cosplayers and of course, to  find great bargains on comics and collectibles.  I knew that superstar artist, David Finch (Batman) had his own table at the con but I was playing it by ear whether I was going to get a quick sketch for him.  Last time he appeared at Wonder Con (comic convention in San Francisco), the line was really long and people were running to his table.  Much to my surprise, the line wasn't really long, probably about 10 people back.  Most wanted commission sketches, it took him about 10-20 minutes per drawing.  By the time I got to him, I must've waited at least an hour. 
I was planning to get Batman: Dark Knight #1 (thanks to my friend for hooking me up) and get one of the  $20 prints he was selling, signed.  As I get his autograph, I nervously ask him if he can do a quick doodle of Batman on my iPhone 4s case.  He thought about it for a couple of seconds, smiles and said "Ok, but I have to charge you for it."  I told him that was okay but I just won't get the $20 print instead since I was on a budget.  As we were talking he was already signing the print and told me he'll just do the sketch for free!  
I thought he was just going to do a 10 second drawing of Batman.  Instead  he took his time and drew a detailed head and hand (even Finch's trademark take on the glove ) of Batman.  He knew that the case was glossy too so he was really careful as he was doing the sketch.  I have a lot of Batman memorabilia but this is my new favorite.
Below is the vid of the sketch: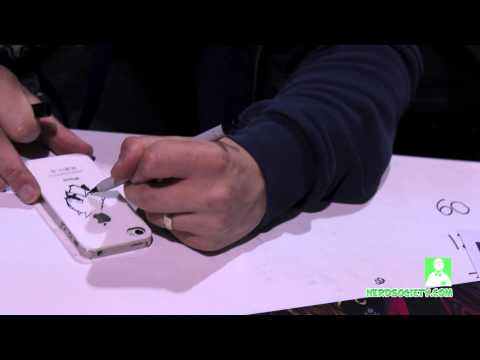 In the end,  I got a comic book, an 11 x 17 print and an iPhone sketch from David Finch for $20.  I want to thank David for being so approachable and generous…..as I was waiting in line, he was giving people discounts for the commission sketches. 
If you see him at your local Con, make sure to stop by his table.  I'm sure you'll appreciate his art and have fun talking to him!
More fun articles: