While the UFC is the king of MMA at this moment, STRIKEFORCE and other MMA organizations like DREAMS joins EA to compete with UFC's Undisputed video game. So far, EA MMA looks promising. The graphics look good, but not realistic. The punches and kicks are utilized through the analog stick, unlike UFC's Undisputed. The takedowns are utilized using the buttons system. The movement is fluid, maybe too fluid for my taste. Sometimes, it feels that the characters are floating around.
THQ and EA are focusing on signing fighters that will be featured in their games. Although, this is an important selling point, what's more important would be the CREATE-A-FIGHTER SYSTEM, it needs to be deep in options and balanced at the same time, like THQs Wrestlemania 2000. Anyhow, in terms of head-to-head competition, UFC edges EA MMA is the roster department. This isn't to say that EA doesn't own their share of phenomenal fighters.

Alistair Overeem, one of the HWs featured in the game.

Fedor Emelianenko is also featured in the game.
To name a few, EA MMA has signed Fedor Emelianenko, Randy Couture, Alistair Overeem (above), Fabricio Werdum, Gegard Mousasi, Renato "Babalu" Sobral, Jake Shields, and Josh "The Punk" Thomson.
Overall, EA MMA is an entertaining game, but I don't know how long the fun factor would last. Although, I enjoyed the demo, the mode that was available was only the exhibition mode, so I can't say much about the Career Mode. EA is promoting the game pretty well, however, they were out-staged by THQ outside the Nokia Theatre. While I was covering STRIKEFORCE: LA, the same day as E3, THQ was everywhere handing out flyers for UFC Undisputed, they even had a truck with a huge TV screen showing off their shiny video game. This was right outside the STRIKEFORCE event. Casual MMA fans would confuse the two, and might buy Undisputed since it's on sale now.
Actual game footage – Fedor vs. Couture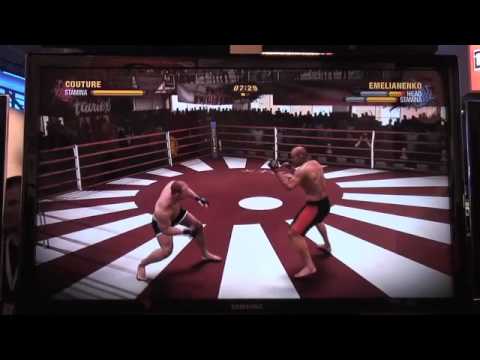 Here's G4 TV's coverage of the game:

More fun articles: