I attended the UFC on Fox between Velasquez and Dos Santos here in Anaheim.  It was my first UFC since the Arlovski vs Sylvia 2, that must have been at least 3 years ago.  Wow, how UFC has grown.  More knowledgeable MMA fans which made for an enjoyable event.  In the Arlovski Sylvia 2, I think TUF just finished its 1st season and there were a lot of stupid comments from the ground:
"Leglock his ass (when Tito was punching Griffin on their feet)"
"Arlovski's a bitch (getting knocked out by Sylvia)"
This time around, I could tell there were a lot of new mainstream fans but most were respectful.  I think I only heard one boo from the whole event during a fight and it was at the end of Guida/Henderson when they were on the ground.  There were a lot of boring fights in the prelims and I was surprised how everyone was so patient and even clapped at the end of the fights.
The security was pretty tight, there were 2 separate guys checking as we walked into the arena.  Cops were standing next to them too.  Outside the arena was really festive as Tapout had a booth along with local radio stations and a game center for the new Undisputed game.
The fans started really get into for the last 3 fights.  The Guida/Henderson got the biggest cheer and everyone was enjoying the fight.  The two fighters really put on a show and going 100% for all three rounds, it was a sight to see.  They fought for the fans and took big risks.
Once it hit 6 o'clock,  UFC had an awesome montage from previous events(I was surprised they didn't show it on Fox).  I don't think the main eventers walked out until 6:25 or so.  They showed another highlight reel in between.
I got goosebumps when Dos Santos walked out to the Rocky music.  The sound system for the Honda Center was really good, you can feel the bass and the lyrics were still clear as hell.  It really hyped me up.  The lighting was phenomenal too, it was similar to Pride events.  Cain came out and the crowd erupted.  They showed him hitting the mitts beforehand but he looked more nervous than usual.  Bruce Buffer introduced both fighters and that dude gets into it too.  Crowd was hyped and the fight started.
Cain was the aggressive one but once I saw him throw the same combo twice, I knew right away that Dos Santos would win.  Cain's movement became too predictable.  After Dos Santos won, people started cheering again but not as loud as the Guida/Henderson fight or Velasquez's entrance.  I didn't like how the fans boo'd Velasquez afterward when he talked with Joe Rogan.  Damn bandwagoners, don't boo a guy that you were rooting for before.  He gave it all he got and lost, so what.  Stick with your fighter.  I was happy Dos Santos won because he's such a happy go lucky fighter, always smiling.
After the event, I was emotionally drained.  The crowd was awesome.  Best moment was the Dos Santos walk out.  Below is the vid of the crazy crowd reaction: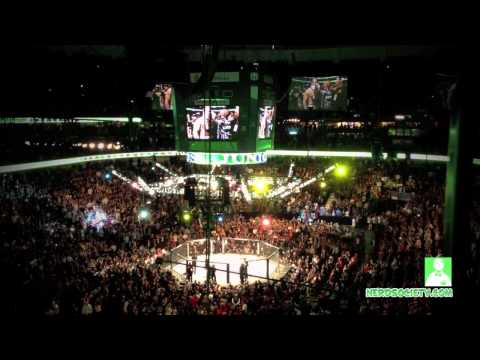 More fun articles: