June 26, 2010 was a historic night for MMA as Fabricio Werdum gave Fedor Emelianenko his "first" loss of his career.  We were there to cover the event in San Jose and I totally forgot about this video.  After the event, we went bar hopping, still shocked that Wedrum submitted Emelianenko.  There were tons of Fedor fans drinking that night in downtown San Jose.  That was our first time in San Jose so we just decided to check out the whole area.  We saw a big group come out from one of the clubs, so we followed the commotion.  It turned out to be Werdum and his team celebrating the victory.  It reminded me of soccer chants.
Here's the vid, enjoy.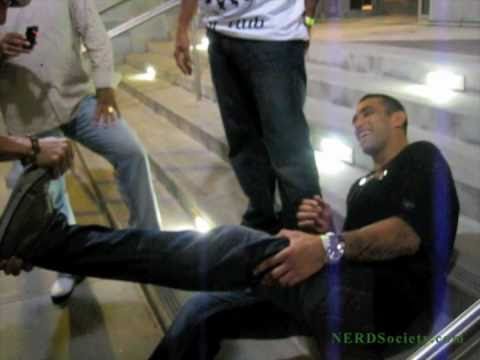 Just to clarify, Werdum was in no way disrespecting Fedor with this celebration.  We were backstage after the match and he was very classy and professional to Fedor.  They even cheered for him.
Check out some exclusive photos of  Fedor Emelianenko after the fight.
More fun articles: