Okay, this only works if you're flying between Taipei and one of seven destinations: Shanghai, Seoul, Fukuoka, Tokyo, Sapporo, Honk Kong or Guam.  But this airlines is definitely the most kawaii out there. Eva Air first rolled out their Hello Kitty jet three years ago (to celebrate the 20th Anniversary of the original Hello Kitty airplane) and they keep adding new routes. The first three planes were averaging 85-90% occupancy so Eva Air officials decided to add two more of the planes just this year.  Who's to say they won't eventually head on over to the US?
If you're a huge Hello Kitty fan or you know someone who is and you're ever out that way, it might be worth it just to go to fly one of these because everything about this airplane is Hello Kitty:  from the stewardesses, to the seats, to the food, even the tickets are printed with a Hello Kitty logo. Just booking flights on their website is a euphoric Hello Kitty experience.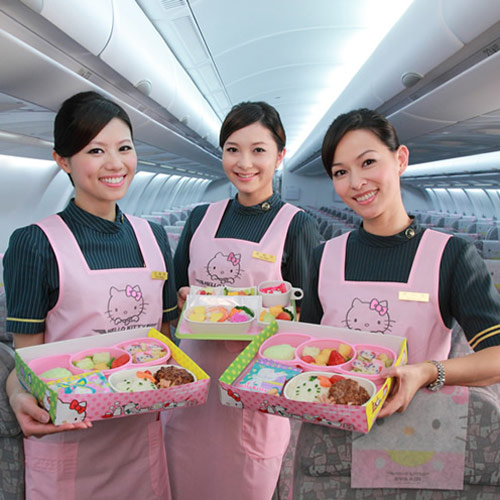 Eva Air currently has 5 planes flying under the Hello Kitty banner. They are the Airbus A330-300s which have 279 economy class seats and 30 premium business class seats available. Each plane has a different theme painted on the outside:
Hello Kitty with Magic Stars which flies from Taipei to Shanghai and Taipei to Tokyo
Hello Kitty Loves Apples  which flies from Taipei to Fukuoka and Taipei to Seoul
Hello Kitty Happy Music Time which flies from Taipei to Sapporo and Taipei to Guam
Hello Kitty Speed Puff which flies from Taipei to Hong Kong
and Hello Kitty Around the World  which flies from Taipei to Shanghai and Taipei to Tokyo. This one makes me think they are eventually planning international flights (fingers crossed).
Happy and safe holiday travelling everyone!
[Sources: CNN, Hello Kitty Eva Air]
More fun articles: