It was just announced recently that Hatsune Miku, the virtual pop star, will be performing (instead of "live" it's in 3D) in concert at this year's Anime Expo in Los Angeles.  The event will take place in the Nokia theater on July 2nd.  The Nokia theater is right next door to the Los Angeles Convention Center, which is where the Anime Expo is being held.
This concert is based on "Miku's Day Thanksgiving" or "39's Giving Day," the first Hatsune Miku performance held in Japan on March 9, 2010.  This year's Hatsune Miku concert in LA is officially being called "Happy to meet you!  I'm Hatsune Miku!"  All related events at the Expo are dubbed "MIKUNOPOLIS in Los Angeles."  She will also be Anime Expo's first virtual guest of honor.  The event is being sponsored by Toyota Motor Sales, Tokyo Kawaii Magazine, the Society for the Promotion of Japanese Animation, Crypton Future Media Inc., and the Sega Corporation (who is also providing the diva's 3D imaging).
Here's a clip from her "39's Giving Concert."  All original band members are said to be performing in the up-coming concert as well.
Hatsune Miku in 3D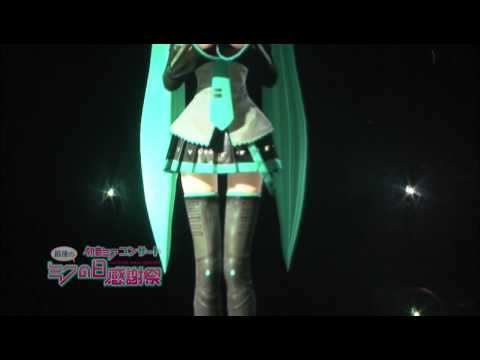 More fun articles: