Anime Vegas is a 3 day convention that takes place at the Alexis Park Resort in Las Vegas, NV.  In its eighth year, the event celebrates all things anime and has a friendly, warm atmosphere that you might not get from some of the larger, more populated cons.  There were numerous guest panels with voice-over artists, producers and illustrators, a charity auction, dealer exhibits, screening rooms showing AMVs and anime, a lounge with DJs and interactive games, and a live music showcase featuring musicians hailing from all over the world, but mostly the U.S. and Japan.
Executive President of Anime Vegas Richard Stott and a staff of over 70 people work very hard to bring this convention to life every year.  In a town that feeds off decadence, Anime Vegas provides a fresh and exciting alternative that is difficult to find, but welcome and much needed, in a place like Vegas.
There was so much going on that it would be impossible to cover everything here, but these are just some of the highlights:
Guest of Honor Johnny Yong Bosch – For about three years starting when he was 18, Bosch played the Black Power Ranger (and also Green). He has since transitioned into a successful career as a voice-over artist having played Kaneda in Akira and Ichigo Kurasaki in Bleach, just to name a couple.  He performed at this year's Anime Vegas with his band Eyeshine and also held a panel.  The Shaolin Kung Fu martial artist turned actor reports that he is currently working on an action film for Cardhouse Productions called Love Like Bullets.  He is also working on video games and film projects which are as of yet unannounced.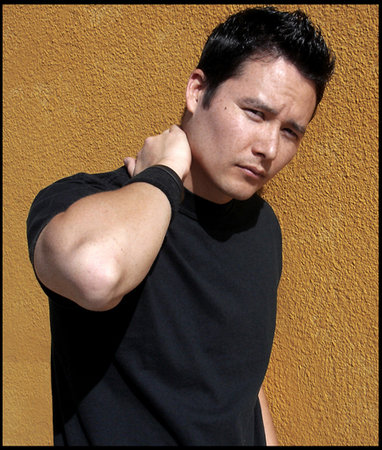 Stephanie Yanez singing Sailor Moon Intro.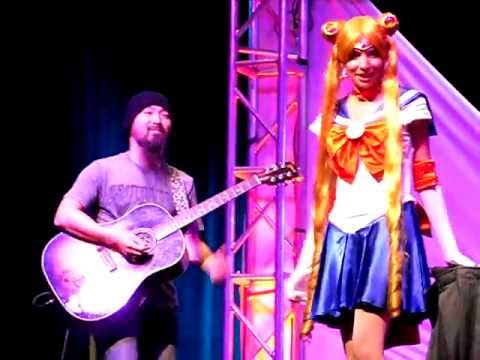 Tokyo Vegas Lounge with DJs and Pachinko
Charity Auction for Make-A-Wish Foundation hosted by Jonathan Klein VP of New Generation Pictures – Klein has also directed English language versions of various animes as well as video game projects for companies like Square Enix, Capcom and Namco.
Got Shwag?  –  Dealers Exhibit Hall
Just Dance (In Cosplay) with hosts Kalika Thornton and Desiree Mendola
Japanese Hip Hop Artists Mula & G-Runz – Their song "Never Stop" was featured in the cosplay slideshow from part one of this article.  For more information, you can contact Mula at muandg@gmail.com.
Complimentary Refreshing Station – taking cosplay to a whole new level
See you next year!
More fun articles: