NERDSociety recently had a chance to interview VAMPS for their upcoming VAMPS LIVE 2009 USA Tour.
Here's the rundown – VAMPS is a band formed by Hyde (L'Arc-en-Ciel) and K.A.Z. (Oblivion Dust) who have been collaborating with each since Hyde's solo work back in 2003. Below you can check out their rockin' music video, "LOVE ADDICT," to get a taste of their tunes.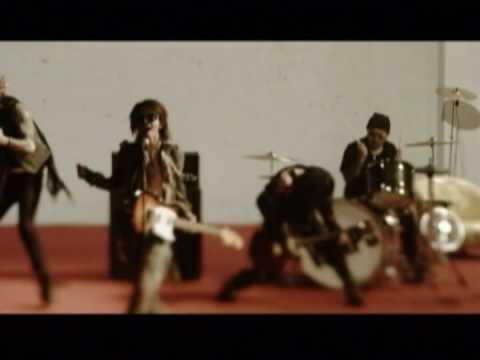 The first time I heard Hyde's singing was in the opening song in the anime called DNA² when he was in L'Arc-en-Ciel (Also one of my first experiences with J-Rock). Other animes that have featured their songs are Fullmetal Alchemist, Great Teacher Onizuka (GTO), and Rurouni Kenshin.
Without further ado, here's our interview with VAMPS.
NERDSociety (NS): Which musicians have been your biggest influences, past and present?
Hyde: Probably, Mötley Crüe.
K.A.Z.: I used to watch and got inspired by King Crimson, Cheap Trick, and TOTO.
NS: Do you feel that the language barrier is a problem for Japanese bands to make it big in the U.S.?
Hyde: Without living in America or lots of passion, it's difficult for Japanese to obtain English skills. I might want to live there…I see more Japanese-American musicians, so I guess the music scene has been changing, but we don't get the same treatment as American artists yet.
K.A.Z.: Of course the language is important, but I don't think you can't make music without learning the local language because it's the music that counts.
NS: You guys have been collaborating with each other for years, what made you decide to form VAMPS?
Hyde: Since Hyde's second album, I have worked together with K.A.Z., but his existence is so important to me that I decided to share one name with him, rather than using my own name.
NS: Your upcoming self-titled debut album is releasing this year right before your U.S. tour. What were your thoughts on making this album and what can fans look forward to?
Hyde: We have more fun with sounds, say, sound effects.
K.A.Z.: The exciting part of this album is that it's VAMPS' first one [laugh].
NS: What can we expect from the VAMPS Live 2009 U.S. Tour?
Hyde: We created music especially for cool lives, so we have a lineup of good live songs. We love to get wild; I think that's our character.
NS: Can you tell us of any future projects you guys have planned?
Hyde: We will work on the next album so that we can have another tour.
NS: Thanks guys for this interview, you guys ROCK!
You can check out their 2009 tour by clicking below
http://www.vampsliveusa.com/
More fun articles: