Matt Mullins is an accomplished martial artist and actor, and an all-around great guy. Mullins is the break-out star of the new hit CW4Kids series Kamen Rider: Dragon Knight. Kamen Rider is exciting and action-packed. It can be seen every Saturday morning at 11:30am on The CW Network as part of their CW4Kids Saturday morning lineup.
Recently, NerdSociety.com interviewed Mr. Mullins and we asked him about his career and his awesome series, Kamen Rider: Dragon Knight.  This is part one:
NerdSociety (NS): Matt, tell our readers a little about yourself. How long have you been doing martial arts? What style did you train in? What can you tell us about Sideswipe?
Matt Mullins (MM): I'm originally from Naperville, IL and I'm a 4th Degree Black Belt in Shorei-Ryu under Master John Sharkey. I competed for many years and won 5-world titles in the WKA. I moved to Los Angeles and started the Sideswipe performance team and we won a number of shows on TV such as 30 seconds to fame and Steve Harvey's Big time. We also finished in the top 8 on America's Got Talent on NBC.
NS: How did you get involved in acting?
MM: I actually started acting before I started martial arts. In Chicago, I trained at Second City and Act 1 and booked a decent amount of commercials. I moved to LA when I was 20 and I have been working ever since.
NS: How did you get the role in Kamen Rider? What appealed to you about the role of Len?
MM: I had to go through a series of auditions to get the role. I actually did not get an audition at first. I had to crash it. I was lucky to get the pilot, and even luckier to be kept on for the series. What I love about playing Len is his whole struggle between duty and his own morality. As the series continues everyone will see why.
NS: How many episodes of Kamen Rider were filmed? Are there any plans currently to film any more?
MM: We shot 40 episodes for season 1. There are talks of doing season 2, but it all depends on how well the series is received, so please watch, lol.
NS: We're big fans of Steve Wang's work. We loved the films he directed, Guyver: Dark Hero and Drive.  What was it like working with him.
MM: Steve Wang is the man. His vision is incredible. He knew exactly what he wanted and how to make it happen. If there was ever a jam or problem of any kind, Steve was like Superman and made it work. His attitude is awesome too. The man never sleeps and it made me want to work even harder in every aspect of my job.
NS: Kamen Rider has a massive following overseas and the series is picking up a lot of steam in the United States. Any chance of doing a Kamen Rider feature film?
MM: I think again it will depend on how well it is received here. I think that was the original plan.
NS:  We're big fans of director Tarsem and his feature films, The Cell and The Fall. I know he directed that nifty Motorola Razr commercial that you appeared in. What was it like working with him? He has a great visual eye.
MM: That was my second time working with Tarsem.  He also directed my Pepsi commercial.  Both experiences were really fun.  Tarsem has an eye for making things really cool and sexy.  Both spots tell a whole story in 30 seconds and that is incredible.  He also has funny jokes.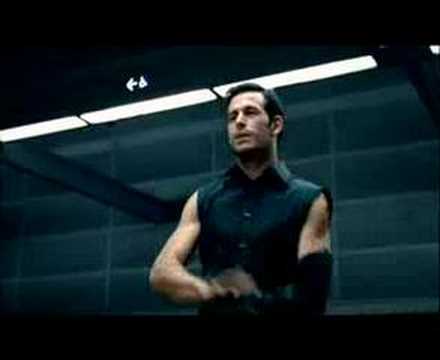 You can check out part 2 of our interview with Matt Mullins here.
More fun articles: