Long Beach Comic Con 2010 has come and gone but for the past couple of years, it's one of the conventions I've always looked forward to.  I like the fact that it's not overly crowded.  I can personally talk to the comic talents instead of wasting your time in a long line for hours.  For this year, J Scott Campbell (Danger Girl) was back for the second straight year and as always, he doesn't mind mingling with his fans.  Thomas Jane (Punisher, The Mist) and Tim Bradstreet was back again at their Raw Entertainment Booth.  The best part was waiting to get Bradstreet's autograph as he was critiquing a fan's portfolio.  He talked to the aspiring artist for 20 minutes, telling him the pro's and con's of his work.  Pretty cool hearing Bradstreet's thought process behind his art.
This year had more cosplayers than 2009.  I was surprised how man sexy babes dressed up.  Suicide Girls were there as well and we talked about their banned status at SDCC.  I'm glad they're still covering other conventions after the unjustified ban.  Hellboy creator Mike Mignola had his own booth too so I had my graphic novel signed.  No one was in line so I took my time talking to him.
Outside the convention was a car display including Star Wars, Knight Riders and Transformers.  It was a nice touch to welcome the attendees.  I can't wait for next year.  I like cons that are mellow but still have enough celebs to call it a major con!
Check out LBCC footage from Ejen Chuang's Cosplay In America: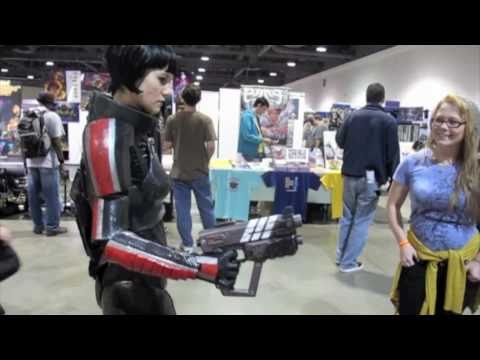 Here's more pics from the convention:
More fun articles: