At the Busan International Film Festival recently, director Luc Besson, known for such films as The Fifth Element and La Femme Nikita, expressed some ill feelings he harbored against Korea for editing out 20 minutes of The Fifth Element when he showed the film there some years ago.  The decision was made to shorten the film at the time to allow more screenings to be shown, but apparently, Besson didn't appreciate that.
Besson was in Korea showing his latest film The Lady starring Michelle Yeoh about Burmese Democratic party leader Aung Sang Suu Kyi, who spent 15 years under house arrest by the country's military in an effort to suppress the will of the people of Burma, who voted her into power.  Shortly after the election, the military declared the election null and void.  Although Kyi's husband passed away while she was under house arrest, she did manage to escape with her life, unlike Pakistan pro-Democracy leader Benazir Bhutto, whose life as the first woman elected to lead a Muslim country mirrors Suu Kyi's in many respects (I recommend the documentary called Bhutto as well). 
 There is also a documentary about Sang Suu Kyi which was released earlier this year.  On an interesting side note, Michelle Yeoh was deported and blacklisted from Myanmar (aka Burma) in July.  I guess the country's military sees even an actress playing Suu Kyi as a threat to their power.  Sheesh.
 The Lady Trailer  HD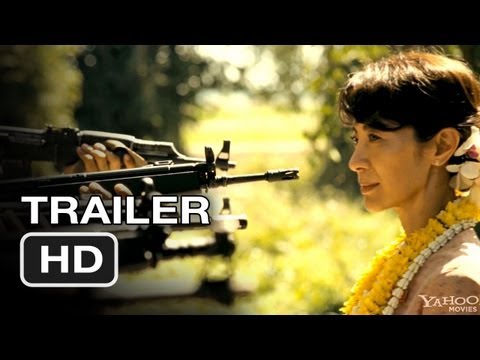 Lady of No Fear Documentary Official Trailer
[Source:  HanCinema, The Hindu]
More fun articles: