Basketball and video game enthusiasts got a treat last night as NBA legends showed up at West L.A. Best Buy for the launch party of NBA 2k12.  People lined up for 7 hours to secure an autograph from living legend and NBA Hall of Famer, Magic Johnson.  The NBA's logo and  also Hall of Famer, Jerry West, showed up to lend his support.
The party included a basketball shootout challenge, photo booths for customized covers, an NBA 2k12 tournament and free snacks courtesy of Gamer Grub.  The man of the night was Magic Johnson as he signed exclusive covers for 200 lucky fans.  Johnson was really enthusiastic and took his time mingling with them and even took pics with anyone that asked.
Here's our video from the event including interview with the basketball celebs: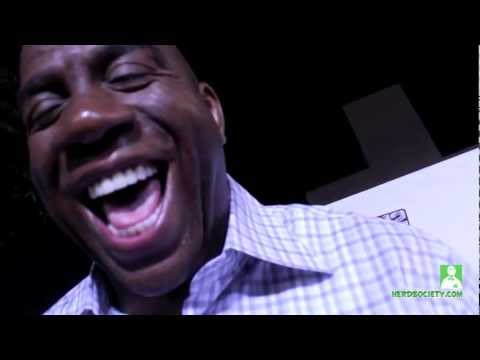 Jerry West was swamped by fans as well  and took his time signing as many autographs as possible.  The new Lakers coach, Mike Brown was on hand.  He said he doesn't know how to play the game but hopefully Magic will hook him up with a copy of the game so he can learn.  Michael Cooper, part of the Showtime Lakers, also made an appearance and joked he preferred the old school tight shorts over the new baggy style.
At the end of the night, the first person in line got to talk to Magic Johnson for about 15 minutes as he was waiting to be checked out.  Magic gave the kid some advice and told him to stay in school and to keep up his positive outlook.  The two were swarmed by photographers and Johnson jokingly told him "I bet you didn't expect this much attention.  You just want to play the game right?"
NBA 2k12 is available now at your favorite video game stores.  It's been reported that it's the best basketball game to ever come out.  The game is getting a 95 positive rating on metacritic.

Thanks to Best Buy and Gamer Grub for the event.
More fun articles: