Phil "The New York Bad Ass" Baroni doesn't care about what people think.  He doesn't care about political correctness. If your feelings get hurt, tough luck!  His next fight will be in Strikeforce on June 6th.  NERDSociety caught up with Baroni and asked him several questions including his take on the Greasegate, Dana White, and dating advice for the nerds.  Watch the video to get a better understanding of Baroni's rock star status and his demeanor.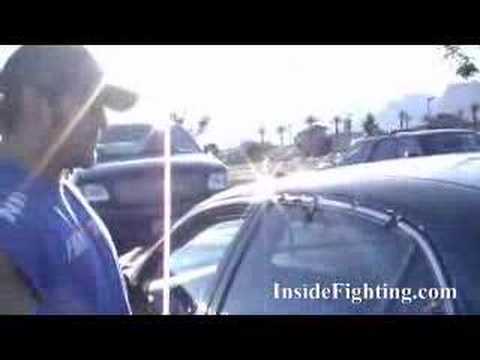 NERDSociety (NS): Are you still living like a rock star with your classic car?

PB: Yeah that's the car I use to drive back an forth to the gym. My wife uses the good car. I can't fucking stand it anymore. After I beat Riggs, I'm buying a 370 z. I had a 350 before. Fuck this driving a shit car to the gym bull shit.
NS: You hype up fights by trash talking, do you really dislike any of the fighters outside the ring?

PB: Most of them I don't like. Some are ok. If you sign a contract to fight me, I don't like you. That's just the way it is for me.
NS: Plenty of fighters don't get along with Dana White, what's your take on the UFC President?

PB: I like him a lot. He has always been very cool to me. He still is. He does a great job promoting the UFC. You can't take that away from him.  He is cool to everyone, fans, everybody, unless you cross him or fuck with him. Then he goes out of his way to bury you. He never lies and tells it like it is. You have to respect that.

Phil blasting away his opponent!
NS: You fought in Pride, what was your most memorable moment?

PB: When I beat Minowa. It was a must win for me. I was fighting a lot of demons and had to really dig deep in that fight to come out on top.
NS: Any interesting/cool backstage stories you want to tell the fans about UFC/Pride?
PB: There is a lot of shit, but it's backstage, so it's not really for the public, the good shit anyways. Let's just say that Coleman is crazy before each fight, so is Randleman. I am too, fucking nuts.
NS: Who do you think is the P4P best fighter?
PB: Fedor hands down. Then I'd say GSP.
NS:  Speaking of GSP, what do you think about BJ Penn's allegations that he greased?

PB: I don't know. Maybe he did, maybe he didn't. A lot of guys do it. A couple of guys from that camp (Greg Jackson) have been accused before. Diego looked like he was greasy as fuck when he beat Diaz. I know Guida was greased when he beat Josh Thomson. Whatever, there are worse things, like guys loading their wraps. I know some guys that used to do it in Japan, that's way worse.

Diego Sanchez vs. Nick Diaz
NS: If you could fight any celebrity, past or present, who would it be and why?

PB: I don't fucking know, I don't give a shit.
NS: Besides pork fried rice, what else do you like to eat?

PB: Pussy
NS:  Are you still training with Hammer House? If so, are you going to corner Mark Coleman again in UFC 100?

PB: If he asks me to corner him, I will. He always corners me when I ask him to. We never train together, none of us Hammer House guys. The Hammer House is Coleman's porch. It has a punching bag on it. I've never been to Coleman's house. I think Randleman stole his punching bag by the way. So there isn't much of a reason for me to go.
NS:  You got an upcoming fight, what do you want to say to your opponent?

PB: Yes, I'm fighting Joe Riggs, aren't you suppose to know that? I have nothing to say to him. Fuck him, really. He is standing in my way and I'm going to do my best to remove him.
NS:  You used to train with Enson Inoue, what was that like?

PB: He is a friend and a cool guy. Japan was a great experience with Enson. A great memory and chapter in my life. He is hooked up in Japan and helped me get a lot of Japanese pussy. He's got game over in Japan. We had a lot of fun. I hope to do it again someday.
NS: Are you a nerd at heart, like play video games or read comics?

PB: Fuck no. I hate that shit with a passion. I think it's gay as fuck and a waste of time.
NS:  Since you don't like to do nerdy things. What's your hobby?

PB: I play poker a lot in Casinos. I'm trying not to anymore. I suck and I've lost a lot of money over the years.
NS:  Do you have any advice for the nerds on how to get girls?

PB: Do steroids, lift heavy weights, get contacts, go tanning. And stop playing all those gay fucking video games. You can't get pussy in front of a TV playing games with your geeky friends. Go out to night clubs and bars, hit the beach. If you got money, floss. Whatever you do, don't be yourself.
NS:  Anything you want to say to your loyal fans?

PB: Not much to say really. Thanks for the support, it's been a long bumpy road, but I'm starting to think I got this shit figured out. I'm doing my best to be ready for my next fight June 6th on Showtime, check it out. I'm going to try and blast his head off.

Even though he hates nerds, we want to thank Phil Baroni for the entertaining and honest interview. We wish Phil the best in his fight against Joe Riggs in Strikeforce on June 6th.
Check out our other interviews with Gegard Mousasi and Enson Inoue.
More fun articles: