Kimbo fell in last Saturday's event but a new fighter was introduced to the mainstream. To all that saw the Affliction commercial during the EliteXC event, and wondered who that guy was that destroyed Tim Sylvia in 36 seconds. His name is Fedor Emelianenko, and he is considered by many to be the #1 Heavyweight in the world.
A video of him against the former UFC champ, Tim Sylvia.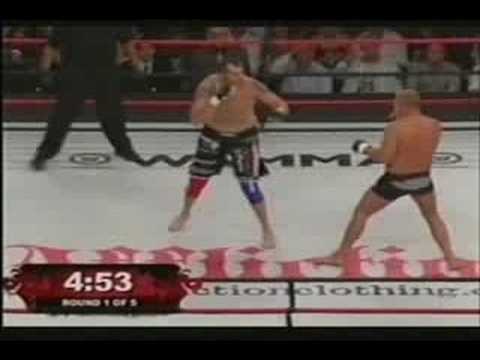 Here's a highlight of Fedor's first fight against UFC's current interim champ, Antonio Nogueira. Nogueira is currently a coach in this season's Ultimate Fighter reality show. Fedor also defeated Nogueira in a rematch.
Fedor vs. Randleman – Randleman was also a former UFC HW champion. Notice Fedor's recovery after the slam.
UFC wanted Fedor but couldn't reach an agreement with the Russian fighter. So, Dana White of the UFC claimed that Fedor is not a top 5 HW. The media, Randy Couture, and most hardcore fans would disagree. Fedor will never be on Dana's top 5 list until he signs with the UFC. Chances are good that Fedor might end up fighting in EliteXC, if they keep their partnership with Affliction. But, right now, UFC is the big dog of mma, which means they can afford to pay more. Only time will tell.
More fun articles: