The former UFC champion, Rampage Jackson, is in a bigger mess than originally thought. One week after losing his UFC belt to Forrest Griffin, Rampage was involved in a hit and run, and a 5 minute high speed chase with Orange County cops. Rumors suggest that what really caused the mayhem was that he was betrayed by his coach. These are all allegations for now, but apparently his coach, and mentor, stole money from him. But, his problems does not end there. The victim of the hit and run was apparently pregnant, and two weeks later had a miscarriage.
This incident took place in the Costa Mesa area. Jackson sideswiped the victim's Escalade on the 55 freeway, but didn't bother to stop. The accident was called in, and the cops started looking for the culprit. Jackson's truck, with the front tire blown out, was spotted by an officer. The cop attempted to stop the truck, but the truck kept on driving for another 5 minutes. After the truck finally stopped, out came Jackson with his hands up. The cops ordered him to the ground, cuffed him, and took him away.
Now, is Rampage really to blame for the miscarriage? The lady is apparently 38 years old, which means that Rampage's lawyers can claim that her age caused the miscarriage. Miscarriages are sometimes caused naturally, but physical and emotional stress can also be culprits. This is a sad situation for both parties, but especially for the victim that lost her child.
Apparently, the UFC is backing Rampage in this mess. The UFC co-owner, Dana White, claimed that the Escalade barely got hit, and the damage is small. I'd have to wonder why White would get involved in this mess. The picture of the vehicle shows that the driver's side door and the back is clearly damaged. But, the question is to what extent? Okay, let's say that the physical impact did not cause the miscarriage, but what about emotional stress?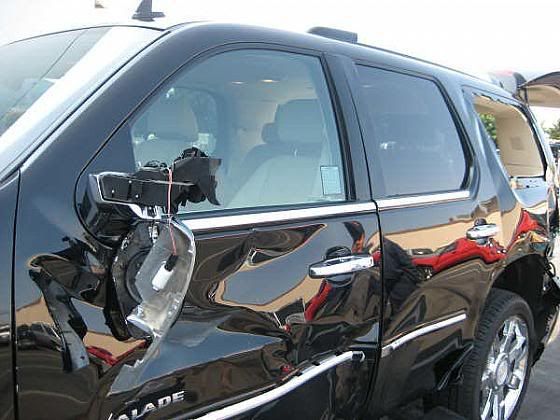 The victim's Escalade.
I guess that we'll have to wait and see what the courts decide. But, as of now, I think that Rampage is responsible for the miscarriage indirectly. I hope that I'm wrong because I like Rampage. But, if he is responsible, he's gotta pay his dues.
More fun articles: