UFN 21 Results
This turned out to be one of UFC's better cards in the past months. The fights were exciting, and only one of the televised fights went to decision.
Kenny Florian Def. Takanori Gomi (Submission: Choke)
– Gomi's ground game is amateurish at best. Gomi, is this so hard to figure out? Go practice BJJ for a year. To top it off, Florian was picking Gomi apart in the stand-up. It was an embarrassing night for one of Pride's top fighter.
Roy Nelson Def. Stefan Struve (TKO)
– Good stand-up by Nelson, he had to step in deep to get through Struve's long reach. He caught him with an over-hand right, and the rest is history.
Jorge Rivera Def. Nate Quarry (TKO)
– An entertaining fight, both fighters were willing to slug it out. Rivera came out on top as he rocked Quarry towards the end of the first. He finished him in the beginning of the 2nd Rd.
Ross Pearson Def. Dennis Siver (UD)
– This fight went to a decision, but this was a good fight. Both fighters came to fight, and entertained the fans. Pearson was a better wrestler, he was able to take Siver down over and over again.
—————————————————————————-
Thiago Alves' Brain Surgery A Success
He was refused by the New Jersey Commission to compete against Jon Fitch last weekend because of "irregularities" on his brain scan.
The surgery took eight hours, and the first words to come out of his mouth was "when can I start training again?"
More here (TMZ)
—————————————————————————-
Ryan Couture vs. Sean Bollinger

Ryan Couture, son of Randy Couture, fights Sean Bollinger. Bollinger is an Eddie Bravo student. Bravo is known for his rubber guard. Here, Bollinger utilizes the rubber guard fairly well on Couture. Does he succeed? See for yourself.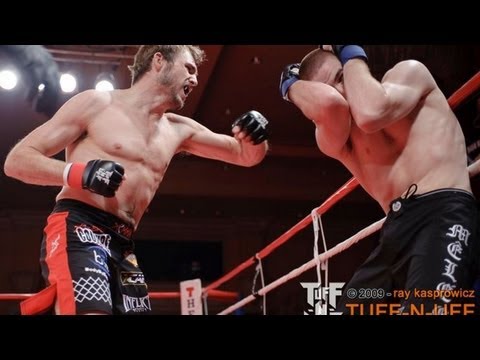 —————————————————————————-
War Machine Acting Up Again!

"Spit all you want, Son!"
TMZ.com reported that War Machine was arrested again in San Diego. He allegedly got into a fight with the bouncers, and as the cops pulled up, he ran away. But, he didn't get very far, and was shortly arrested.
More here (Cagepotato).
—————————————————————————-
Kim Couture vs. Rosa Viscarra
This happened last Saturday, but was overshadowed by UFC 111. It seems like Kim Couture has nothing on GSP, yet!
More here (Cagepotato).
—————————————————————————-
Rumor: Liddell to Face Couture Again!
If the rumor stands true, Liddell and Couture will meet once again for the 4th time at UFC 116. This fight will replace Liddell/Ortiz 3 because of Tito's rumored injury.
More here (Heavy.com).
—————————————————————————-
Rousimar Palhares Suspended by the New Jersey Athletic Commission
Palhares held on to the heel hook for too long. Tomasz Drwal was tapping, and the referee stepped in, but Palhares did not let go. The New Jersey Athletic Commission decided to suspend Palhares for 90 days. This may seem like a punishment, but it's not since most UFC fighters don't fight every 3 months. But, this will go on his record, and I'm sure that he'll be more careful next time.
Here's one of his older fight, he yanked it hard, even when the ref stepped in.

More here (Cagepotato).
—————————————————————————-
UFC 111: GSP vs. Hardy Results
Nate Diaz def. Rory Markham via ref stoppage
Jim Miller def. Mark Bocek via decision
Jon Fitch def. Ben Saunders via decision
Kurt Pellgrino def. Fabricio Comoes via submission to a choke
Shane Carwin def. Frank Mir for the Interim heavyweight title
Georges St. Pierre def. Dan Hardy via unanimous decision
More fun articles: