Strikeforce Adds More Names to May 15th Card
– Vitor "Shaolin" Ribeiro to meet unbeaten Lyle "Fancy Pants" Beerbohm

Shaolin pounding on his opponent (pic by Susumu)
– Also, Antwain "The Juggernaut" Britt (11-3) will collide with Rafael "Feijao" Cavalcante (8-2)
——————————————————————-
Tito Arrested in Huntington Beach

Teary-eyed Tito at the press conference
TMZ indicates that Ortiz was arrested when Huntington Beach Police Officers noticed that Jenna Jameson had "visible injuries" after the altercation.

Happier times
I guess we'll see where this goes, both parties are accusing each other of misbehavior. Ortiz claims that Jameson is a drug-addict, while Jameson says that Ortiz is abusive.
UPDATE: Jenna Jameson tested negative for drugs! So, is Tito lying?
More here (TMZ)
——————————————————————-
The Korean Zombie Was Robbed!
To most fans, Chan Sung Jung "Korean Zombie" clearly won his fight against Leonard Garcia at WEC 48, but the scorecard said otherwise. Both fighters came out swinging, Garcia was dropped in the 1st, while Jung was dropped in the 2nd. The 3rd Rd. clearly went to Jung's favor as he scored multiple unanswered punches against Garcia.
Don't know who the Korean Zombie is? Here's a HL clip courtesy of Spicadocious.
——————————————————————-
Hamill and Jardine set for TUF 11 Finale
Also, Nelson vs. Kongo and Sakara vs. Marquadt possible for UFC 116.
UFC 116, headlined by Brock Lesnar vs. Shane Carwin, here is what the Main Card looks like.

Yes Brock, you are the MAN!!!
MAIN CARD
Brock Lesnar vs. Shane Carwin
Wanderlei Silva vs. Yoshihiro Akiyama
Nate Marquardt vs. Alessio Sakara
George Sotiropoulos vs. Kurt Pellegrino
Cheick Kongo vs. Roy Nelson
More here (Cagepotato)
——————————————————————-
Batista Training for MMA?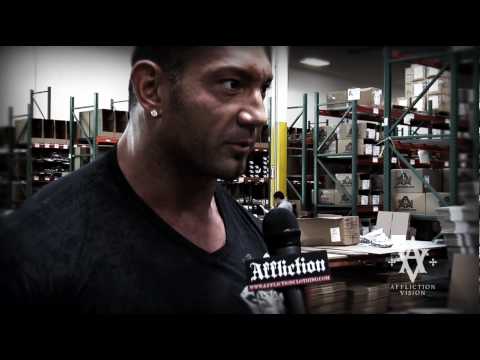 Looks like he can hit, the ground game will be another story though.
——————————————————————-
Strikeforce: Three Fighters Announced on the L.A. Card
Their opponents will be announced at a later date.
The event will be held on Wednesday, June 16, at Nokia Theatre in Los Angeles.
Tickets will be available for purchase by the general public Saturday morning at 10am PT. Tickets will range from $40 -$100, which is a pretty good deal!
UPDATE: Robbie Lawler will face Renato "Babalu" Sobral in the L.A. card.
——————————————————————-
UFC: Undisputed 2010 List of Fighters
This is a long list, they even have fighters that don't fight in the UFC anymore! I wonder why Wanderlei Silva isn't on the list?
Heavyweights
Mostapha Al-Turk*
Andrei Arlovski
Pat Barry*
Shane Carwin*
Junior Dos Santos*
Todd Duffee*
Kevin "Kimbo Slice" Ferguson*
Mirko "Cro Cop" Filipovic
Gabriel Gonzaga
Antoni Hardonk
Heath Herring
Marcus Jones#
Cheick Kongo
Brock Lesnar
Justin McCully
James McSweeney#
Frank Mir
Roy Nelson#
Antonio Rodrigo Nogueira
Eddie Sanchez
Brendan Schaub#
Dan Severn@
Stefan Struve*
Cain Velasquez
Fabricio Werdum
Heavyweight/Light heavyweights
Mark Coleman
Brandon Vera
Light Heavyweights
Ryan Bader
Stephan Bonnar
Jason Brilz*
Luiz Cane*
Steve Cantwell*
Rashad Evans
Forrest Griffin
Matt Hamill*
Quinton "Rampage"Jackson
Keith Jardine
Jon Jones*
Chuck Liddell
Lyoto Machida
Tito Ortiz
Mauricio "Shogun" Rua
Thiago Silva
Krzysztof Soszynski*
Light Heavyweight/Middleweights
Vitor Belfort*
Michael Bisping
Rich Franklin
Wilson Gouveia
Dan Henderson
Anderson Silva
Middleweights
Yoshihiro Akiyama*
Ricardo Almeida
Alan Belcher*
Patrick Cote*
Kendall Grove
Dennis Kang*
Chris Leben
Demian Maia
Nate Marquardt
Drew McFedries
Dan Miller*
Yushin Okami
Nate Quarry*
Chael Sonnen*
Middleweight/Welterweights
Martin Kampmann
Mike Swick
Welterweights
Thiago Alves
Carlos Condit*
Marcus Davis
Jon Fitch
Royce Gracie@
Dan Hardy*
Dustin Hazelett*
Matt Hughes
Anthony Johnson
Dong Hyun Kim*
Josh Koscheck
Chris Lytle
Karo Parisyan
Amir Sadollah
Georges St-Pierre
Paulo Thiago*
Frank Trigg*
James Wilks*
Welterweight/Lightweights
B.J. Penn
Diego Sanchez
Matt Serra
Sean Sherk
Lightweights
Nate Diaz
Frankie Edgar
Efrain Escudero
Terry Etim*
Spencer Fisher
Kenny Florian
Hermes Franca
Tyson Griffin
Clay Guida*
Joe Lauzon
Gray Maynard
Cole Miller*
Ross Pearson*
Kurt Pellegrino*
Jens Pulver@
Dennis Siver*
Joe Stevenson
Caol Uno*
Source (MMAJunkie)
——————————————————————-
More fun articles: