It looks like the TV show might become a reality now that NBC has given David E. Kelley (Harry's Law) the go-ahead to shoot the pilot.  According to the Hollywood Reporter, Kelley says he has a "smart script" and that the character will be "a real complex woman and not just a superhero."  I remember the original Wonder Woman TV show.  Linda Carter rocked the costume.
Nothing yet about who will play the patriotic albeit scantily clad superheress or whether she'll be wearing the new costume from the comics.  Will it be someone well-known or a new discovery?  Who do you think should play Wonder Woman?
When the movie idea was getting tossed around (literally), there were many who wanted to see Megan Fox as Wonder Woman.  But she seemed to have a very low opinion of the character as she told the Sunday Times: "Wonder Woman is a lame superhero. She flies around in her invisible jet and her weaponry is a lasso that makes you tell the truth. I just don't get it. Somebody has a big challenge on their hands whoever takes that role but I don't want to do it."  I don't get where the big challenge comes in; this can't be any harder than getting chased around by oversized green-screen mechanical aliens.
Some Wonder Woman celeb cosplay…
Kim Kardashian
Rhona Mitra
Alessandra Torresani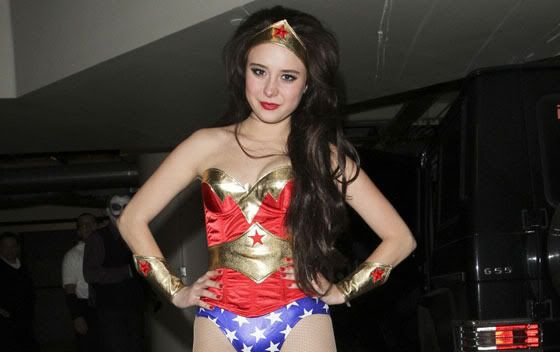 Mya
Kate Beckensale
More fun articles: