The year was 1984. The movie Ghostbusters was huge, so huge it spawned its own Saturday morning cartoon, The Real Ghostbusters.  During the time the show ran producers had made a promotional deal with the juice brand Hi-C. Tied in with the show the trusted juice box brand to kids everywhere released Ecto-Cooler, the box featured the lovable Ghostbusters' character Slimer.  The drink was only expected to last as long as the show, but due to the overwhelming success, the product continued to be produced long after the cancellation of the series in 1991.  It wasn't until 1997 that Slimer's face was removed from the box but Hi-C did not discontinue the drink until 2001.  After Ecto-Cooler was discontinued, the drink was renamed Shoutin' Orange Tangreen, it was exactly the same recipe and on many super-market receipts it would appear as Ecto-Cooler.  The juice box would be renamed again as Crazy Citrus Cooler, the recipe was ultimately discontinued in 2007.  Til this day, geeks scour the internet looking for any sign of their once beloved juice box.  In fact there is actually a petition online to get Hi-C to bring back Ecto-Cooler .
As a kid I loved Ecto-Cooler, and to this day I can hardly remember what it tasted like, but I remember asking my mom to pack it in my lunch everyday I went to school.  Then again I was kid and I was retarded. I would have bought anything that had Ghostbusters on it, I even remember using the Ghostbusters' shampoo.  What would really suck is if I got my hands on a box, tried it, and was like "OH GAWD This is horrible!"
I scoured the internet for a couple of hours looking for a recipe, or the original juice boxes for sale, but I came up empty handed.  I did however find a bunch of alcohol mix drinks that claim to taste like the original with booze, but the only way to know for sure would be to have an original juice box to compare it.
Here is one of the mixed drinks that I found:
Ecto-Cooler
1 oz Blue Raspberry Vodka – I use UV Blue
1 oz Midori
1 oz Sour Mix
1/2 oz Lemonade – Use no pulp lemonade
1/2 oz Lemon-Lime Soda – I used Sprite
This was the best one I found and it sound like it taste pretty good, there are at least 15 others all claiming to taste like the original.
Click here to view all recipes
Will we see Ecto-Cooler again?  Probably not, but then again there is that rumor of a possible Ghosbusters 3.  Until then, I drink this delicious wannabe to Ecto-Cooler and our fond childhood memories of it.
Here is the original Ecto-Cooler Commercial: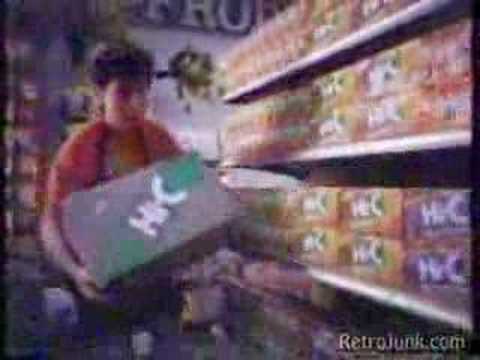 More fun articles: