You might have seen a video or two on Youtube created by these three ladies.  They're known as LBK (which stands for Lisy, Bora, Kim).  LBK is a motivational group who frequently get together to raise money for charities.  Their positive outlook and happy-go-lucky natures are infectious.  Take a look at this video and you'll see what I mean.
I came across this one day when I was looking into a competition called Tough Mudder.  Tough Mudder is a 10 mile obstacle course designed by British Special Forces guys.  They hold this event periodically in different places to raise money for severely injured soldiers.  The next one will be held in Northern California in September.  Click here for more information on Tough Mudder. 
LBK created the dance video to raise donations for their participation in Tough Mudder, which they completed together.  Here is another video of them climbing 40 flights of stairs for the Fight For Air Climb put on by the American Lung Association.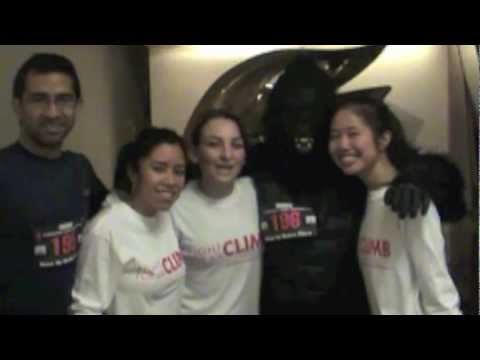 I had an opportunity to interview these interesting ladies, and this is what they had to say: 
 NS – Tell us about your group LBK.
LBK – LBK (Lisy, Bora and Kim) is a group of three girls from Boston that created the B Lo Kii (be low key) movement to inspire people to live a more positive, giving and balanced life through the mind, body and soul. We are constantly promoting ourselves by doing various activities that are fun, inspiring and healthy, while also spreading our message of being positive. We have learned the secret to living a joyous life and we want to share this with others so that they become aware and also benefit from such a simple ideal way of living; where dreams come true and anything is possible.
NS –   How did you meet?
LBK –  LBK has been friends for over 10 years, meeting through middle/high school and immediately connecting with one another.
NS – Who came up with the idea to start motivating young people?
LBK – Since LBK has been friends, we've been told by many that our combined energy is mind blowing. Last summer we spent a month together vacationing in numerous Caribbean Islands and while doing so, we applied the law of attraction. Our summer could not have been any better. When we concluded our trip, we realized just how far thinking positive can take you. The rest of the year was just as amazing for us, where everything we wanted to happen, happened. Right before the New Year of 2011, we decided that we wanted to inspire the world and we figured, the best way to do that would be to share some of what goes on in the life of LBK to the public. As you've seen in some of our videos, our main message is anything in life is possible, as long as you have a positive mind set and believe in whatever it is that you are doing, you will succeed!
NS – I saw that you did Tough Mudder and The Climb.  What other types of events have you participated in together?
LBK – Besides TM and the Climb, the other big events we did thus far are the Walk for Aids and the Joyce Ramble 10k run. We choose events to participate in that have a positive impact in our community. The way we choose what to participate in is by finding a combination of something we enjoy doing, such as a physical activity, as well as what the event stands for. Also, since the beginning of the year we have taken Reiki classes to become certified Reiki practitioners. Reiki is a way of healing through pure love universal energy. When we are not doing events or putting videos out there, we Reiki people. We have held a few events where we offered free Reiki to individuals with the hopes that they will pass along the word of positivity and do something nice for someone else.
 NS – The dance video is very cute.  Who choreographed all the moves?
LBK – LB choreographed the TM dance. We thought: "What's a way to capture peoples attention to get them to sponsor us and help us raise money for a great organization 'Wounded Soldiers' and show that we're tough?"…. Dance in bikinis in the freezing cold… why not? We ended up getting sponsored and also raising money for "Wounded Solders" organization, so it worked 🙂
NS – On your Facebook page it says you are self-employed.  What are you doing now individually and as a group?
LBK –  We as a group are self employed but as individuals, we are very busy as we all have careers. L is an RN, B does Finance/Accounting and K is a Realtor. As a group, we are Reiki practitioners and we are always looking for ways out of the norm to get our name and message out there.
NS – What's your next project?
LBK – LBK always has something in the works. Our focus right now is getting people in our community familiar with Reiki and all the benefits it has to offer, so we are working with a privately owned health facility to establish a Reiki Center that we will be running. Simultaneously, we are still LBK and we are always doing fun things on a daily basis showing the world that life is truly meant to be lived joyously!
NS – What has been your most inspiring experience as LBK?
LBK – The most inspiriting experience was a really touching moment that involved Reiki. Ls cousin was in the hospital in a coma after he had suffered a heart attack. The doctors didn't have any good news for the family as the severity of the heart attack had caused brain damage. L asked BK to go and do Reiki on her cousin 3 days before they were going to pull the plug if he stayed unresponsive. Reiki isn't a guarantee that it will heal, but many miracles have happened because of it. A few hours after we finished doing Reiki on Ls cousin, he woke up from his coma and that moment meant so much to us. To be able to change one families life- it was incredible.
NS – What is your ultimate goal with LBK?
LBK – LBKs end goal is to spread our movement WORLDWIDE. We also plan on opening a large holistic center offering people a place to practice what we encourage in our movement. LBK is going to change the world- it's just a matter of time.
—
Live Joyously, NO MATTER WHAT!  ~  LBK
More fun articles: