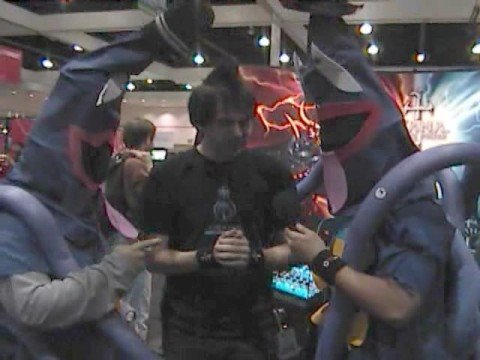 This one's called Gaming with Tentacles. Check out the Tentacle Brothers as they infiltrate E for All 2008, with interviews from the The King of Kong: A Fistful of Quarters cast, Steve Wiebe and Walter Day, cosplayers, PMS girls, Mana Potion dudes, and more.
We tried to get as much Gears of War 2 footage, but was stopped by Microsoft personnel. We did get to play Guitar Hero World Tour though. I feel it's the same as Rock Band, but I was singing to Everlong by Foo Fighters, Eye of the Tiger by Survivor, and What I've Done by Linkin Park.
We tried to get media passes, but I guess the Tentacle Brothers were denied badges. How sad.
Did you know? Penny Arcade Expo has a hatred towards fame gamer, Fatal1ty; that if he's ever to step foot at the expo, he will get the kick in the arse.
More fun articles: