Many fans have been wondering why Optimus doesn't have his trailer in the movies.  Well it looks like Michael Bay listened to the fans as several pics from siebertron.com shows Optimus with his trailer.  Tranformers 3 is shooting right now in Chicago and the filmmakers supposedly want to upstage the action scenes from the Dark Knight.
Other recent TF 3 pics shows Tyrese with the new female lead, Rosie Huntington-Whitely as well as a sports car sporting some machine guns.
Below is footage of Optimus Prime with the trailer in the streets of Chicago: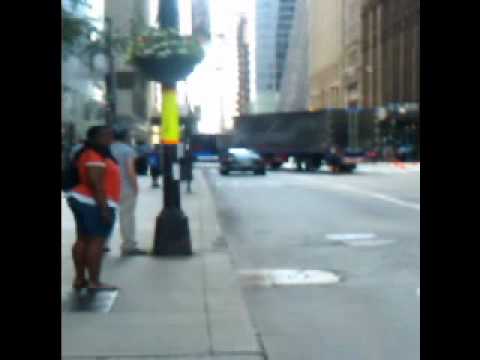 I'm wondering what the trailer will transform into.  Knowing Michael Bay, it'll probably be a big ass rocket!  Although Transformers 2 sucked, I have a feeling part 3 will be good.
Transformers 3 will be released July 1, 2011.
More fun articles: