Ah, the drama of boxing.  Okay so a few days ago it was announced that Manny Pacquiao dropped his defamation lawsuit against Oscar de la Hoya and Richard Schaefer, CEO of Golden Boy after Schaefer released a statement of apology.  Here is their admission of wrongdoing:  "Richard Schaefer and Oscar De La Hoya, on behalf of themselves and Golden Boy Promotions, wish to make it crystal clear that we never intended to claim that Manny Pacquiao has used or is using any performance-enhancing drugs, and further state that we do not have any evidence whatsoever of such use. Manny Pacquiao is one of the greatest fighters of all time, and we apologize if anyone construed our prior remarks as in any way claiming or even suggesting that Manny uses or has used performance-enhancing drugs."
So let's talk about what their intention was:  to stop a fight from happening because their boy got scared…? I guess it's better than biting someone's ear off but come on.  Boxing is a great sport.  But chump moves like this one are just making the sport look bad.  Don't set up a fight if your boy's not ready to face his opponent.  Or if he gets cold feet later then maybe he needs to just back out like a real man.  Do they really think veiled accusations like this reflects any more positively on them than if they were to just admit straight up that they're wimping out?
It might fool some people.  But Pacquiao agreed to Mayweather's request for random, unlimited urine testing, which is all the Nevada State Athletic Commission requires anyway.  I wouldn't want my blood drained while I'm training for a fight like that, either.  What's interesting is that Schaefer's apology did not seem to include the names of Mayweather or his camp.  So Pacquiao's suit against them is still on the books, which makes sense because this whole ridiculous thing probably originated with Mayweather, anyway.
Even though all the drama has cast a negative light, it has also had the effect of building up a rivalry so prolific that a lot of boxing fans are anxiously awaiting the day these two finally get in the ring together.  Hopefully this apology just might be a step in that direction.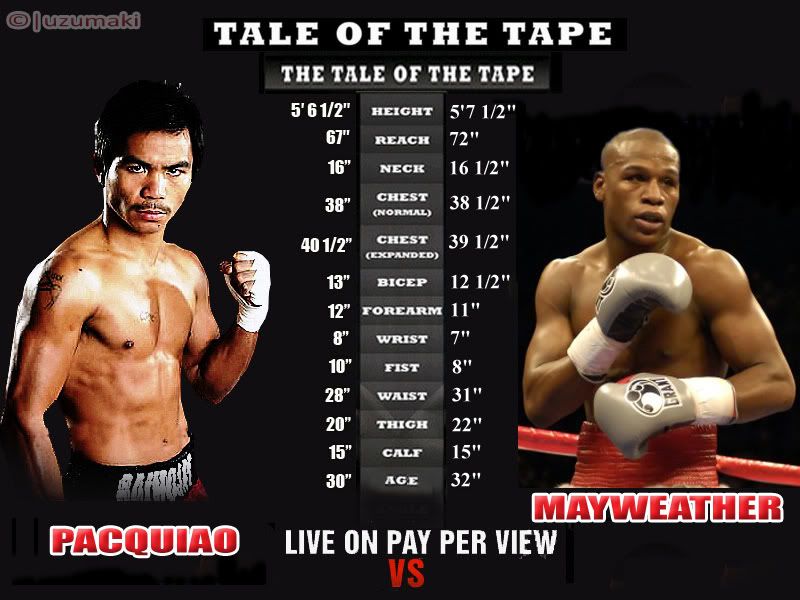 [Sources:  BoxingInsider, DaTruthBoxing]
More fun articles: