Kimbo Slice is all HYPE! He has knockout power and that's about it. In his last fight, he almost lost to a crappy fighter named James Thompson. Thank goodness the ref was told by the promoter to help Kimbo at all costs. Thompson was punching Kimbo for about 45 seconds on the ground. Kimbo was taking the hits and unintelligently defending himself. But the ref let the fight continue and Kimbo got "saved by the bell". Even Kimbo's trainer, the legendary Bas Rutten, told the press it should have been stopped.
Look, I don't hate Kimbo. It seems like he's a very respectful and honorable man. But what I don't like is the stupid hype. Kimbo is not even in the top 10 in heavyweight rankings, yet everybody talks about him like he's invincible. Plenty of fighters can beat him. For this reason, they match him up with somewhat well known fighters that are has beens, like Tank Abbott and big buff guys, like Thompson. To the new fans, this makes Kimbo, a bad ass fighter.
I was at a bar last Thursday and I saw 3 guys wearing a WWKD(a spoof on WWJD slogan) shirt with Kimbo's face on it. I just shook my head when I saw this. I thought only girls wear the same shirts when they go to bars, but with the Kimbo hype, anything is possible. It was just pathetic.


Then I got into a debate with my friend regarding Kimbo vs. Brock Lesnar. Of course, he's going for Kimbo. I told him Lesnar, who is an accomplished college wrestler, will just take down Kimbo at will. It's a classic striker vs grappler match up. About 80% of the time, the grappler wins. A bouncer heard us and threw his opinion in: Kimbo would win because he is undefeated and only lost to Sean Gannon in an amateur fight. Of course he's undefeated in his professional fights! He fights crappy fighters. It's not like he fought anybody in the top 10. He is protected by EliteXC not to lose. Look what happened when he accepted the challenge by the amateur Sean Gannon. Kimbo gassed and lost because Gannon for the most part, defended his punches.
By the way, this is James Thompson fighting in Japan against Aleksander Emelianenko, maybe the 10th best heavyweight in the world.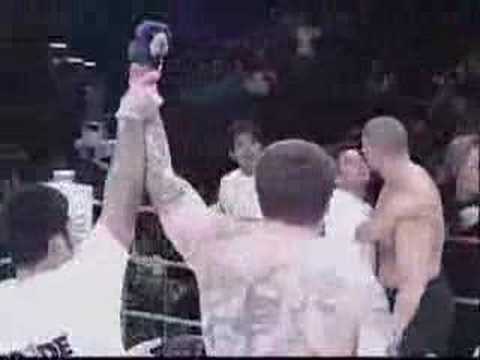 Notice how fast Aleksander defeated Thompson? Just giving all the Kimbo fans a dose of reality on how far he really is from being the #1 MMA fighter in the world.
More fun articles: