I know, I know… It's just a fluffy Anne Hathaway vehicle, right? Not quite… Well yes but it's so much more than that. The movie itself was something of a success: $124 mil. Domestic gross… Not bad for a movie that came out in 2006 while the US was falling fast into the housing market crash, still neck deep in the war in Iraq, and no clear way out of the Bush era.
Long before Anne Hathaway played Catwoman, she was trying desperately to leave her Princess Diaries days behind her. This was also the first major American film role for Emily Blunt and who can forget Meryl Streep's Golden Globe winning performance as the devil herself Miranda Priestly, editor in chief of the fictional magazine Runway, a role she fashioned after the head of Vogue Anna Wintour?
And in the midst of all this starpower, real life lessons going on in the subtext. Like what, you may ask? Let me explain…
DRINKING THE KOOL-AID
Andy applied for the job "a million girls would kill for" because some part of her was interested. Writers are known for trying out new things, for putting themselves in crazy situations because of curiosity. Life experience gives writers something to write about and they often have an insatiable thirst for life. Yes, she just wanted to be a journalist… But the fact that she was able to make that transition from the hopeless girl with the hideous skirt and the blue sweater to the "glamazon" says a lot about her ability to throw herself into her work. Of course it helps to look like Hathaway, but they can do amazing things with makeup and fashion these days (have you seen Kim K before photoshop?) and it just takes a willingness to transform. Not everyone is able to pull that off or flexible enough to even try. And makeovers don't always happen on the outside.
OLD FRIENDS AND BOYFRIENDS
Her friends were all too willing to accept all the free swag she was giving away but not very understanding when it came to seeing what she had to do to get it. Her best friend who "got" the Andy from ten years ago but was judging her now only wanted to keep Andy in her little box of memories. I mean seriously? She didnt get Andy anymore? She didnt even try. Playing keepaway with Andy's phone when her boss was calling wasnt cool, either, and showed that they didn't take Andy or her job seriously at all. Her boyfriend denied he was pouting like a five year old when Andy came in late for his birthday but that's exactly what he was doing. And claiming to not mind if she was pole dancing as long as she did it with a little integrity is horseshit. He was straight up jealous of her dedication to an office job. Can you imagine if she was a stripper? Puhleeze. A lesson to the wise: if your significant other and your friends can't support you on your life journey, well, it's time to start hanging with a new crowd.
LET ME KNOW WHEN YOUR ENTIRE PERSONAL LIFE GOES UP IN FLAMES, THAT'S WHEN IT'S TIME FOR A PROMOTION
There are many jobs like this that can take over your life. She might not have made a lot (or she might have, the film never addressed that) but she admittedly learned a lot. And you can't put a price on experience. If she had loved fashion like Emily did, she might have been able to fully appreciate her job. But even at the height of her Kool aid drinking, Andy still didn't come close to understanding how lucky she was. Even so, she got to see how dedication and hard work can help you succeed… But it's not always easy to keep that balance between one's professional and personal lives. Many successful people have a hard time with relationships because all their effort is put into their jobs and not everyone is willing to be #2 on the totem pole.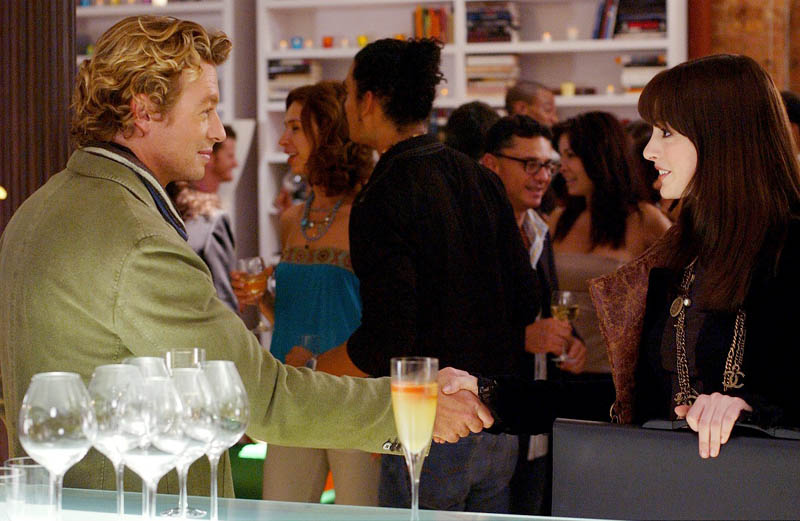 SAY HELLO TO LE BOYFRIEND FOR ME
He was a little sleazy, a little forward, but people like Christian Thompson can help someone go a long way in their career. No, Im not talking about whoring your way up the corporate ladder. BUT, sometimes it helps being single. I'm not saying this is the way it should be. Its just sort of the way things are a lot of the time, particularly in industries like fashion, music and film where so much relies on networking and "shmoozing."  Andy turned down a bona-fide offer to be introduced to the editor of Newsweek because she had to get home to give her ungrateful boyfriend a cupcake he didn't want anyway. What a waste of a good opportunity. Who knows where that one introduction would have taken her?
THE BITCHY CO WORKER
Emily was a snob and she was bitchy but she was serious about her job. In the end when Andy stole her trip to Paris, she called Andy out. She saw it, she said, when Andy put on that first pair of Jimmy Choos. But Emily never brought it up until she got screwed over. She was the assistant that outlasted so many others, the one who survived Amanda and did a good job. Even though the story was about Andy, there's a big chance Emily's story was even more interesting. After all, Andy was just an Emily in training, for the most part. Emily had been there done all of that already (also probably screwed over her fair share of co-workers) but had a real future in the business because it was her passion. She wasnt just a dilettante passing through like Andy was.
DETAILS OF YOUR INCOMPETENCE DO NOT INTEREST ME
Mentors come in all shapes and sizes, and so do proteges. There is a reason Miranda Priestly got to where she is. Somewhere along the way, she made the right decisions and took the right steps. She said Andy reminded her of herself, but maybe not in a bad way. It's like playing a game of Chutes and Ladders of life. A lot can be learned from people like Miranda, even if it's just that you don't necessarily want to be like her in the end.
More fun articles: