Long Beach Comic Con (LBCC) is securing its spot as my favorite convention!
LBCC has two shows, a one day event and smaller show in spring.  The other one is their big 3 day event in fall.
The spring event was this past Saturday and the experience was great.  Sure, there's not as many vendors as WonderCon or Comikaze but I got to talk to more artists and discuss….art.  My brother and I are currently working (hopefully revealed in 2 months) on a shirt project so we made the rounds and asked them for critiques.
First up was David Mack (Dardevil), he was pretty busy talking to his fans.  We waited until it was our turn and  we talked about his Daredevil project.  Then we showed him our work and asked for his opinion.  At first, he seemed kind of confused what we were asking for because we showed him the finished and unfinished products.  Then it made sense to him and gave us little tweaks to make it more effective.  Got a Daredevil comic signed as well.
Next up was Flash artist, Brian Buccelatto.  He was more than happy to help us and took his time analyzing the designs.  Overall, he said it was good and it works but to be careful about the fonts and word placements.
I see Olga Ulanova's table so I immediately go there.  I knew her work from message boards and art sites.  I loved her minimalist designs and unique compositions.  I bought several prints.  Afterwards, we asked about our designs and she said she didn't know much about the topic.  She said, thematically, it's in the right direction.  It was encouraging that she got some of the concepts even though she wasn't familiar with the theme.  We thanked her and talked to artist next to her: Dustin Nguyen.

One of the prints I got from Dustin!
I got my American Vampire: Lord Of Nightmares #1 signed.  We talked about the book for a little bit.  He said Vertigo (subdivision of DC) wants the art more "raw" compared to DC.  He said it was the first time he drew and inked a whole book.  Nguyen then said that some of the pages weren't "done."   He showed me several examples where he didn't ink the whole building or environments.  I told him it looked better that way because it fits better with the story and it makes it unique.  Another guy got American Vampire #1 signed as we were talking.  We asked if he can help us with our project.  He was more than happy to give us pointers.  He said to pay attention with the demographic because they'll play a big part with the success of the project.  He also gave us advice on color schemes.  Afterwards, I also bought several prints from him, at least one was going to a friend who's a big Batman fan.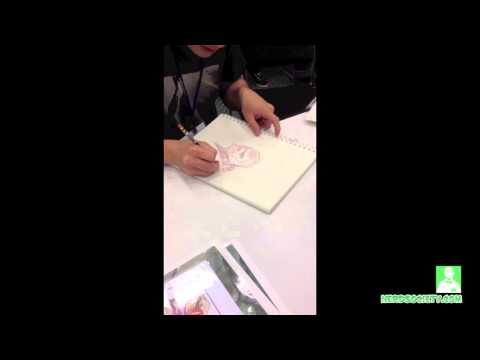 Oh yeah, before I left, I asked him for a Bane sketch.  It probably took him about 2 minutes to draw my favorite villain.  It was pretty awesome.  I wasn't going to ask him for one because he was packing up but my brother told me to give it a shot because it's probably not a big deal to him and won't take him long.  Afterwards, we said our thank you and his table was full again with fans.
We walked around the con and got several comics from Golden Apple.  They were selling it 3 for $1 so we got about 30.  Yeah, we ballin!
Before leaving, we made one more round.  We saw the always personable Joel Gomez and the great Beth Sotelo.  He showed us the commission work he did.  I was going to get one on a blank cover but he didn't have one for DC.  I told him I'll get one at the next con.  We both laugh (inside joke:  I always stop by his booth at every con).  Again, we asked for his opinion/critique on our shirt designs.  He said the concept and art is there but to make sure that everyone will get it right away.  He said to fine tune the ideas because some were already home runs while others a double.  He said make each one a home run and don't settle for less.
At the end of the day, we attended a panel on Marketing With A Shoestring Budget with Dale Wilson and Dani Dixon.  They talked about branding and how to present yourself to peers, fans and the big wigs.  What I got out of it was to work hard and don't be discouraged.  They said there'll be major bumps but to overcome it and never give up.  They also said social media plays a big role in getting yourself out there.
As you can tell from this recap, we had good productive feedback from LBCC regarding our shirt designs.  If you have an art project going, go to a comic con for advice.  With a smaller show like this, all the artists took their time chatting with us because the place wasn't overly crowded.  They were more relaxed and easier for them to focus than at bigger cons.
So we got great deals on comics, bought several prints and got advice on our designs.  I was somewhat nervous that the artists wouldn't like the designs and we'd have to start from scratch.  In a way, we do because we have to tighten up the idea for our demographic.  But even if they said the idea wasn't great or they had major criticism, I wouldn't have it any other way.  I'd rather have them be honest and not sugarcoat it.  It's the only way we can be better.  Fortunately for us, they liked the artwork but just to make sure the theme is tighter.  I have no problem with that.
Oh yeah, we also ran into our favorite serial slasher aka Ruben.  Here's our interview with him.
Long Beach Comic Con's next event will be on November 23-24!
I'll see you guys there, with hopefully our own booth 😉
More fun articles: