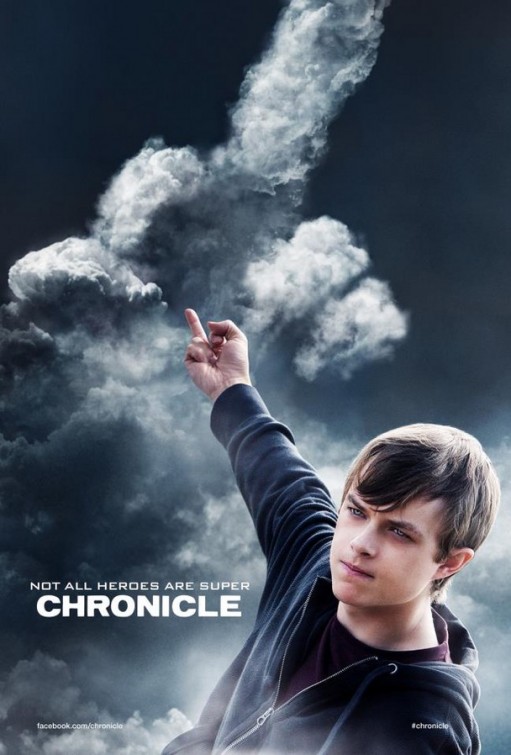 With taglines like "Not all heroes are super" and "Boys will be Boys," not to mention a movie poster with a guy flipping the bird in front of a similar cloud formation, Chronicle gives off an impression like it might be one of those questionable low-budget films you come across streaming on Netflix. But apparently, this is one of those cases of "don't judge a movie by its poster."
Interestingly enough, Chronicle has already received an 86% audience response on Rotten Tomatoes and a 7.2 out of 10 favorable response out of 98 critics. Here is the synopsis according to IMDB: Three high school friends gain superpowers after making an incredible discovery. Soon, though, they find their lives spinning out of control and their bond tested as they embrace their darker sides.
This film was directed by Josh Trank whose biggest credits include writer/director duties on the 2007 Donnie Wahlberg/John Leguizamo TV show Killpoint.  Scriptwriter Max Landis (son of director John Landis) collaborated with Trank on the story idea. His brief resume includes a film short titled The Death and Return of Superman.
The film also stars relative newcomers Dane Dahaan, better known for roles on True Blood and In Treatment, and Alex Russell.  Co-star Michael B. Jordan probably has the biggest resume of the entire bunch with credits including principle roles on The Wire, Friday Night Lights and All My Children.  Here is the trailer:
CHRONICLE Trailer 2012 – Official [HD]
More fun articles: