With zombie outbreaks everywhere, you might as well join them because sooner or later, you're going to be one!
But what kind of zombie should you be?  Well…Ryan Bradshaw, aka Finger Eleven, from Spawn's message boards gives us one awesome idea:  Zombie Robot or in short, Zombot!
Below is Finger Eleven's detailed journal on how he made the awesome costume, as well as a video in all its glory, including robot voice:
Okay, so there's a little more ado. At first I toyed with the idea of just making a crappy-yet still awesome cardboard robot costume. That somehow quickly evolved into a Zombie Robot which came quickly after Ninja robot and Pirate Robot were shot down (Zombie Robot idea credit goes to my buddy Petch).  It just spoke to me visually. Basically, I just thought it would look cooler. So I slept on it for a few days and kinda let it fester in my head. One day at work, I was talking to my mom on the phone. When that 1 minute phone call was over (any longer and the nagging begins) I looked down at my scratch pad, and low and behold….ZomBot was born….
I started collecting boxes from work and started the construction in my basement. It didn't take nearly as long as I thought, although I knew that the real time would be spent with the painting and decorating.  Made the wise choice early on to ditch the contact cement and go with the hot glue gun. SO much easier… but with less buzz.
Once I had the bulk of the body done, I remembered a special place I visited a few summers ago.  A very busy  surplus store in downtown Toronto promoted by a crazy guy in a gorilla suit. It's a place that's filled with nothing but electronic junk and random crap. I told myself before that this would be the place to get my parts if I ever wanted to build a robot. Naturally that's where I went.
I knew I wanted some bolts or rivets to make it more detailed. I thought it would sell the metal look I was going for. I settled on these little scrapbook looking buttons I found. I hot glued 5 packs of 35 (someone do the math on that for me?) on the front of ZomBot and on the boots. Did a test spray (AFTER I glued them all on of course) to make sure the paint would stick.
Then came the silver 'HAMMERED' spray paint. I paid extra for the hammered effect, but I think the cardboard soaked it up too fast because I never got the effect I wanted. I followed that up with some sporadic dustings of matte black. Figured it would dinge it up a bit and add some contrast.
Then came the fun stuff! Gluing and mounting all the roboty goodness. I had a speaker grill (to hide the voice changer), the front panel, a switch, a fuel gauge, some dial thing and assortment other crap. Made all of it (fueled by my sketch) and then started on the weathering. This was actually the most fun of the entire process. Just rusting the heck out of it. I think I did a pretty good job overall and I think that it sells the cardboard as metal (more than I thought it would really). Of course I did the same with my boots and claw hand thing that I built out of cardboard as well.
Then I mounted the 'gut box' as I called it behind where the panel is (falling off it). I attached some boards from a DVD/VCR combo some dude down the street tossed. I also added a flickering LED back there too so it looks like somethings sparking (at least that's what I tell myself it looks like). Painted the little puck lights and attached them to the head.
Then it was on to the arm and a half (and a camera that's NOT in my phone). Obviously the ol' dryer duct arms. You CAN'T have a cardboard robot without em!
It's pretty front heavy and back was a little light so I toyed around with the idea of mounting a full 2 liter bottle of pop on the back… I opted for an empty one. (brains are in the fuel tank of course)
And that's pretty much for the construction. On the weekend, I tried it all on for the first time. It was…interesting. I only lean on one shoulder and I have a habit of compensating for the crooked mouth. Also…no ankle movment at all. But that'll just add to the slow zombie robo walk.
Here's the video of that going down… (almost)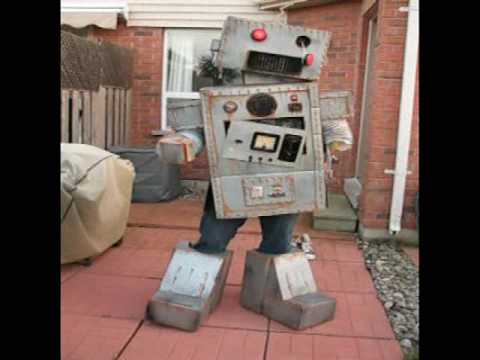 Still contemplating on doing something with my legs… I've mentioned some painted up knee pads. I'll figure something out. I also want to paint the inside of the half arm and add some blood splatter. I still have a few days!

You can check out more pics here:
Zombot Gallery
More fun articles: