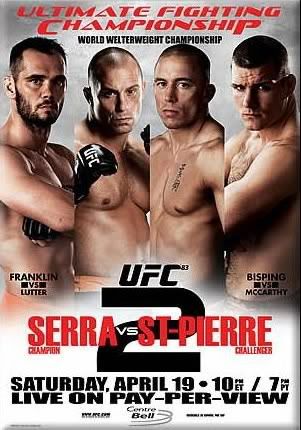 After a great card on free tv, UFC arrives for the first time in Canada for the next PPV event. The tickets sold out in minutes as their hometown hero, St. Pierre tries to reclaim his belt against the somewhat cocky/over confident Matt Serra. Without further ado, below are my predictions:
Matt Serra Vs. Georges St-Pierre
Even though Serra is the welterweight champion, he is still the underdog. Many fans thought Serra's TKO over St. Pierre in their first match was a fluke. For me, it wasn't a fluke. Serra's boxing looked great but I don't think St.-Pierre will make the same mistake again: taking Serra lightly. For this rematch, I see St.-Pierre taking out Serra methodically. Especially after Serra's comments on St.-Pierre calling him a "silly french", I think St. Pierre will be more focused and mentally prepared. St.-Pierre will win via tko in the second round after dominating him in the first round with his superior striking.

Prediction: St.-Pierre
Travis Lutter Vs. Rich Franklin
Let's face it, if Anderson Silva isn't in the UFC, Franklin would still be the middleweight champ. Lutter's only chance is a submission and it's very slim. Franklin will knock him out in the second round. These two fighters are in a different league and an easy win for Jim Carrey.
Prediction: Franklin
Nate Quarry Vs. Kalib Starnes
This is a tough one to call. Quarry can/will get knocked out at any given moment and Kalib Starnes usually goes to decisions. I'll go with with Quarry getting the knockout in the third round. I think Quarry is too strong for Starnes and therefore control the fight from beginning to end.

Prediction: Quarry
Charles McCarthy Vs. Michael Bisping
Bisping by tko in the second round. Bisping will ground and pound McCarthy. McCarthy doesn't have enough experience to hang with Bisping.

Prediction: Bisping
Mark Bocek Vs. Mac Danzig
Danzig by whatever he wants. My guess would be a first round rear naked choke in the first round. Once again, his experience is too much for Bocek.

Prediction: Danzig
More fun articles: