I'm excited for this event. Seek and Destroy air at 7pm pacific /10pm eastern time, on Saturday. Brock Lesnar is fighting again and the Huerta/Florian match up should be a battle. The main event features Georges St.-Pierre against the tough and proven John Fitch. Without further ado, here are my predictions:
Georges St-Pierre Vs. Jon Fitch
John Fitch has an 8 fight winning streak in the UFC and looks to take the welterweight belt away from St-Pierre. Fitch's greatest strength is his wrestling background. I don't see him beating St-Pierre. I think St-Pierre will stuff his take downs. St-Pierre will outstrike Fitch and finish him off in the third round. Fitch is just too one dimensional to be a threat for St-Pierre. But then again, I thought the same way about Matt Serra and he tko'd St-Pierre.
Prediction: St-Pierre

Brock Lesnar Vs. Heath Herring
Lesnar's original opponent was Mark Coleman. Coleman got injured and Lesnar got a tougher opponent in Heath "I'm not a homo" Herring. Herring is younger and moves faster than Coleman.
To the fans that don't know about Heath Herring, he has only one knockout in his career.  Don't blink, it's fast and powerful: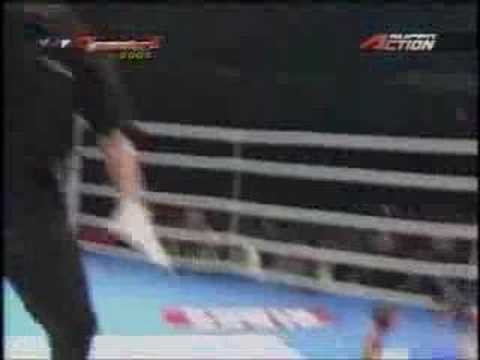 Lesnar isn't getting the Joe Silva (UFC matchmaker giving potential stars an easy fight) treatment. The first round will be really interesting with the two heavyweights going hard. Lesnar will win the first round with his takedowns. In the second and third round, he'll gas and Herring will get the unanimous decision. Expect an excting first round followed by two boring rounds.
Prediction: Herring
Kenny Florian Vs. Roger Huerta
Kenny "I Finish Fights" Florian is going against the somewhat overrated Roger Huerta. If Huerta wins this match, it'll prove that he is the real deal. Many fans think UFC is protecting Huerta because he is marketable. When I first heard about the match, I picked Florian to win. Florian's stand up has been impressive and he has been really aggressive. But thinking about it, I think Huerta will take it. Huerta is just too strong for Florian. Huerta has enough ground game and will not get submitted. First round could go either way. Expect Huerta to ground and pound on the second and third round and get the decision.
Prediction: Huerta
Manny Gamburyan Vs. Rob Emerson
I don't really care about this fight. Gamburyan is good but his style lacks excitement. Gamburyan will submit Emerson in the second round. Probably with his specialty, heel hook.
Prediction: Gamburyan
Jason MacDonald Vs. Demian Maia
This fight looks boring on paper but I think it'll be exciting. MacDonald is a gatekeeper who will not improve, but I'm excited in Demian Maia. In Maia's last fight he caught Ed Herman in a weird triangle/armbar. I really hope he's the real deal because that move was sweet. MacDonald probably has a better strikes than Maia but that's not saying much. Maia will showcase his ground game and get MacDonald in a third round submission.
Prediction: Maia
More fun articles: