Help me!
Halloween Haunt has become a tradition in Southern California because of the scary mazes and the entertaining show, "The Hanging".  People flock to the event every year and below are some tips so you can enjoy the event.  Also make sure to check out the review for the mazes as well as the Halloween Haunt related videos:
1)  Crowd Control – The major problem of the event is the crowd.  It gets really packed and waste your time waiting in long lines for the mazes and the rides.  Easy solution to this is to plan ahead.  The earlier date you attend before Halloween, the less people.  The tickets are cheaper as well.  Weekdays usually have less crowd, avoid weekends as they tend to sell out.
2)  Budget – Tickets in October range from $32 – $46.  The more expensive tickets are on the weekends.  The tickets also usually sell out  a couple of days ahead as it gets closer to Halloween.  So this is another good idea why you should plan ahead, you'll save time and save money!  Don't forget parking, it'll cost you $12.
2) Strategize – Before you go to the event, make sure to make a list of what you want to do: mazes, food (their funnel cakes are the best!) shows and rides,  (review for the mazes and the Hanging are below).  Make a priority of each attraction you're interested in.  Check out the map of the theme park because some attractions are located next to each other and you can save time by not backtracking.
3)  Gears –  Bring a light jacket/sweater just in case it gets a bit cold.  Wear comfortable athetic shoes, don't wear heels and dress shoes as you'll be doing a lot of walking and running (if you get chased by monsters!).
4) H20 – Bring water!  You don't want to get dehydrated as you stroll the park.  If you get sudden loss of energy, it's time to drink water.  The body is telling you you're getting tired and it's time to re-energize.  You don't want to feel like a zombie.
5)  Enjoy! –  The most important tip I can tell you is to have fun and enjoy the event.  Make the most out of each attraction and don't rush.  If you try to do to too much by checking out too many attractions, you'll only get stressed and burn yourself out.  Have fun and happy haunting!
Maze Reviews:
The mazes are about 4-6 minutes long and there are emergency exits every 30 seconds or so just in case you get nauseaus or too scared.  Some mazes are designed to be fully enjoyed by wearing 3-D glasses.  The glasses cost $1 each you can get them by the entrance of each maze.
One more note: I never noticed it in previous Halloween Haunts, but this year had more scantily clad ghouls, they were big flirts as well.  That's a plus for me!!
Below is a review for each maze, starting with the new ones:  
Terror of London – This was the last maze I entered and it was my favorite.  The theme is 18th century London as Jack The Ripper walks the street.  I've always been fascinated with the incidents so I really enjoyed it.  The production reminded of the movie "From Hell (about Jack The Ripper as well)" and I love the little details including cops finding dead bodies and a pub filled with drunks.  Girls in corsets added a nice touch.  It was a perfect combination of creepiness and intrigue.  You have to check out this maze!
Grade: A  
Lockdown: The Asylum – This was the scariest maze and consisted of a prison overrun by psychos.  I hate crazy people so this one really got to me.  I was tense from the get go.  Reminded me a little bit of Batman: Arkham Asylum, with the crazy inmates.  After a while though, the maze became too similar so it wasn't as enjoyable as the first half.
Grade: A-  
Uncle Bobo's Big Top of the Bizzare in 3D – This reminded me of one of my favorite childhood movies Killer Klowns From Outer Space.  The color is in neon because it's in 3D.  It fits the theme well and I had fun with it.  It wasn't scary but it brought back my childhood memories.
Grade: B+
Dia de los Muertos in 3D – The theme consisted of Mexico folklore's from a chupacabra to ancient human sacrifices.  Again, the main color schemes are neon because it's in 3D but it fits well  with the theme.  Especially the cemetery with the bright colors because it's a celebration of the dead, instead of mourning.  It starts out on a happy note but gets scarier as the maze progresses.  It gets really dark with humans hearts being removed in the jungles, reminded me of Apocalypto.
Grade: A-
Returning Mazes
Corn Stalkers – I was disappointed with this maze because I thought it was going to be really scary.  It was just a zig zag and became too predictable.  The highlight for me was the monster sitting down and pretending to be a dummy.  That dude made me jump.  The  creepy sound sound effects of crickets chirping was well designed but besides that, nothing else really stood out.
Grade: C+
Club Blood – This maze reminded me of the club in Blade's opening scene.  There are women dancing on a platform and strobe lights are used in full effect, techno style. It wasn't really scary because the music just pumped me up and wanted me to go clubbing.  Later on, you see dead bodies preserved in clear containers.  I enjoyed it because I'm a big fan of Blade, the monsters had awesome dance moves and the production was good.  Not really scary though.
Grade: B +
The Slaughterhouse – I always love this maze, it's clearly inspired by the Texas Chainsaw Massacre.  Creatures jump out at you using bungee cords and you hear chainsaws buzzing, which is always scary.  The filthy production value adds realism to the maze, love it!
Grade: A
The Labyrinth – The theme is inspired by the movie, Pan's Labyrinth.  There's even a dinner table similar to a major scene in the flick.  Well played!  This is another maze where flirtatious girls were all over the place, including Poison Ivy look alikes.  Not really a scary maze because it was more of a fantasy forest than a haunted place.
Grade: B
Quarantine – Based on the movie with the same title, the maze reminded me of a movie stage at Universal Studios.  You enter an apartment and witness people getting crazy and the government doing experiments.  It felt generic and I wasn't really amazed by it.  It felt too fake and clean for my taste.  One really scary part was an old woman crying.  Some parts were really dark and I went the wrong way and everybody behind me followed.  Haha.  So be careful where you're going.
Grade: B-
Alien Annihilation in 3D – The colorful alien themed maze didn't appeal to me.  I would have preferred a darker theme similar to Alien and Event Horizon but they went with the 3D route so it has neon colors.  If you get dizzy fast, make sure to close your eyes when you pass through the bridge because the environment around you is constantly rotating.  It's a well designed maze but I just didn't like the colors.
Grade: C+
The Doll Factory – This one really surprised me.  I thought it was just going to be dolls walking around but it was pretty violent and had sexy nurses (one can be seen on the first video).  Starts out pretty mild but as you progress, it gets more violent as you see mutilated bodies.  The contrast of a doll house and a lot of blood freaked me out.  Some creatures blended in with the walls and I didn't see the scares coming.
Grade: A-
Black Widow's Cavern – This was okay.  I don't really get scared by spiders so this maze didn't appeal to me.  This maze is by the Calico Gold Mine Train ride and you can skip this one.  Mainly featured spiders and creatures jumping at you.
Grade: C
Pyromaniax – Reminds me of Dawn Of The Dead with zombie looking creatures but set in the wilderness.  This one is set at the Log Ride and I enjoyed the production value but it was a bit limited because it was tight.  It's not a major maze but if you have time to spare, it's worth checking out.
Grade: B-
Below are videos from the mazes:
Part 1 includes Club Blood, Lockdown, Doll Factory and Dia De Los Muertos: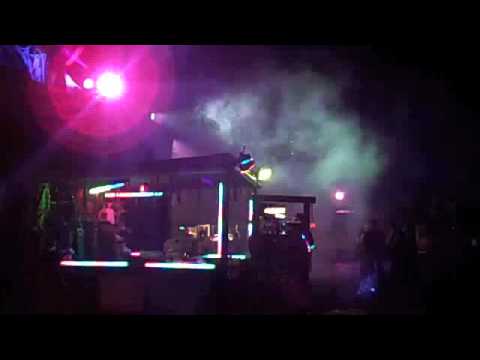 Part 2 includes Corn Stalkers, Labyrinth, Quarantine, Alien Annihilation and Terror of London: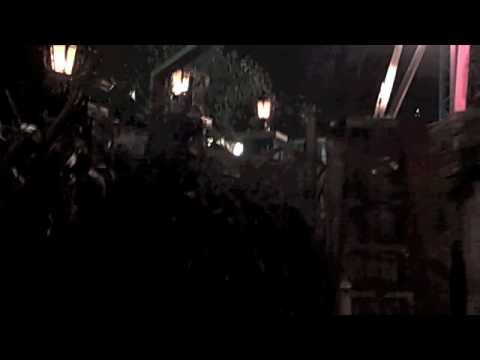 Hanging Show Review:
The Hanging show consists of pop culture celebs being killed in various funny ways.  This year's show was entertaining because they made fun of a lot of things, even their own show.   The main character this time is James Tiberius Kirk from Star Trek and it's pretty light hearted compared to previous shows.  The jokes were pretty clever and I liked the appearances from Bruno and the Jonas Brothers.
Funny Videos from the show:
Part 1 with Bruno and Jonas Brothers: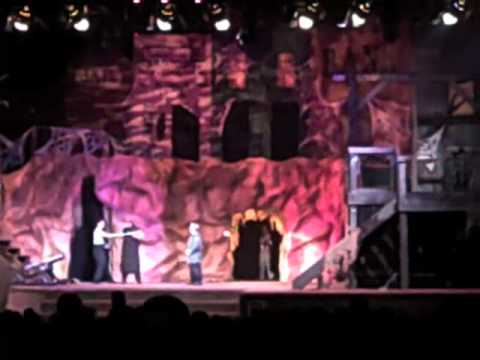 Part 2 with Wolverine and ending: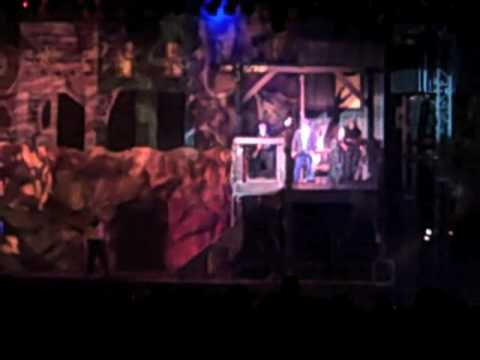 Grade: A-
Conclusion:
Knott's Scary Farm is always a fun event if you plan ahead.  The event is not for young kids because some parts are really scary.  If you're an adult and you've never been to Halloween Haunt, you owe it to yourself to go.  It's also perfect for couples because there'll be a lot of hugging and holding hands due to the scary theme.  Knott's Scary Farm is not a cheap event and for a couple, be prepared to spend at least $90 (including food and souvenirs).
The mazes were well designed and scary.  What I like about Knott's mazes is that they're pretty long so you can definitely feel your heart beat, it really builds up.  The new mazes were definitely well thought out and it's always the highlight of Halloween Haunt.  The Hanging show changed its tone a bit, which was good.
Enjoy Halloween Haunt!
If you have any other questions about the event, please post it under "comments" and I'll reply back.

More fun articles: