As previously reported on Nerdsociety, Keanu Reeves is starring in 47 Ronin, an epic fantasy film about the historic Japanese samurai troupe of the same name.  The cast list has grown since then and we now know (and I am very excited to report) that the great Tadanobu Asano (Thor) was cast, along with Rinko Kikuchi (Babel), Hiroyuki Sanada ( Lost, Last Samurai), and Kou Shibasaki (Battle Royal).  Japan pop star Jin Akanishi will also be making his Hollywood debut in the film, possibly as a friend of Keanu's named "Scream."  The 3D film is being directed by Carl Erik Rinsch for Universal Pictures.  The crew just wrapped their Budapest, Hungary location shoot on May 24 and are now headed to England.
It seems like they've got a lot of great people working on this thing.  The director Carl Rinsch is a protege of Ridley Scott's.  Cinematographer John Matheison was nominated for an oscar (for his work on Gladiator) as was production designer Jan Roelfs, recognized for work on Gattaca and Orlando.
Although Reeves' character was first listed on IMDB as being called "Hiro," it seems that the character's name is actually "Kai" a samurai of mixed heritage who hangs with Oishi (played by Hiroyuki Sanada), the leader of the ronin. Reeves had this to say about his character Kai:  "There's a sadness about him and I admire the grace he shows in response to other people's feelings. He doesn't have anger about the way he is viewed, but there is sadness and I've found that an interesting thing to work with."
As this is  a Hollywood production, there has to be a love story in there somewhere so Kai will be falling in love with Mika (Shibasaki), the fallen Lord Asano's daughter. But since he is not on her level – socially, financially or racially- their love will undoubtedly be a tortured, unrequited thing.
Kai is apparently a lover and a fighter, as Keanu reports having to up his game for the challenging fight scenes:   "I haven't done two-handed sword before so it was pretty cool to learn the basics and I've been building on that.  There's a definite style to this sword and it's very fast I'm trying to keep up and learn as I go."
Tadanobu Asano will not be playing Lord Asano, gladly, as that character dies early on in the original tale.  Tadanobu will be playing the bad guy, Lord Kira, the one who taunted the ronin's leader and was instrumental in his downfall.
According to Reeves, they're shooting each scene first in Japanese then in English.  I can't wait to hear Reeves speaking Nihongo!  Woah!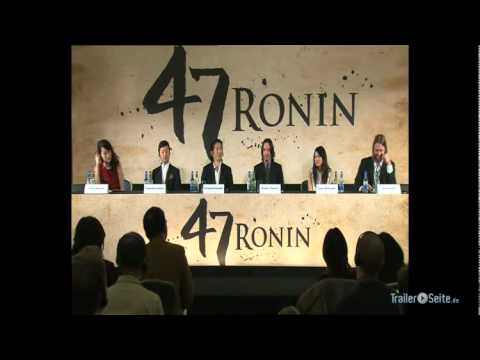 [Source: LA Times ]
More fun articles: